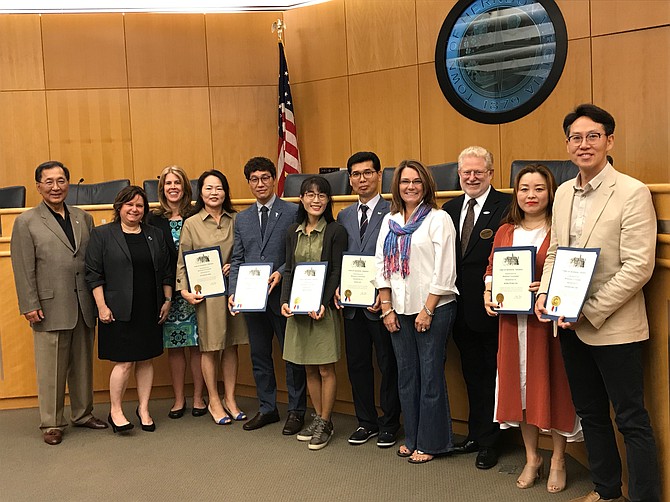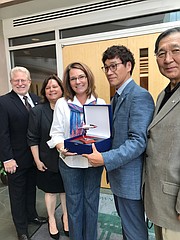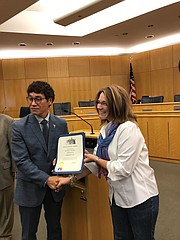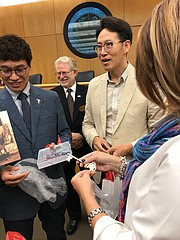 According to town staff, it's been a long time since any mayor of the Town of Herndon and councilmembers had the occasion to formally welcome citizens from another country to the community. On the morning of Friday, Oct. 6, Lisa C. Merkel, Mayor of Herndon along with Town Councilmembers Jeffery L. Davidson, Signe Friedrichs, and Jennifer K. Baker met with six visitors from South Korea for a ceremonial gift exchange and certificate presentation after receiving a request from long-time Herndon resident, Heyon Kon Lee, president and founder of Grandmaster H.K. Lee Academy of TaeKwonDo. The welcoming gathering was held in the Herndon Town Council Chambers, 765 Lynn St.
Lee accompanied and introduced guests: Grandmaster SangGeun Lee- MALUHAN CHEONGMU TAEKWONDO and Member of the Executive Board of Directors for the Sacheon City TKD Association; Grandmaster GiJin Lee- MARUHAN UIRYEOUNG TAEKWONDO and Member of Board of Directors for the KyungSangNam-do Province; Directors for the GeoJei city TKD Association: MinSun Hong, SeonSoon Shin, and WonKeong Na.
The South Korean assemblage went first. SangGeun Lee presented Merkel with a scale model of the T-50 Golden Eagle developed by Korea Aerospace Industries, LTD with Lockheed Martin. Lee also offered a TaeKwonDo Zodiac plaque depicting twelve Earth's branches and the twelve horary signs. Merkel, in turn, gave Lee two watercolor ceramic plaques depicting Historic Downtown Herndon and the book, "Around Herndon" by local author and historian Margaret Peck. More gifts were exchanged on both sides.
Following the gift exchange, Merkel invited the guests to come forward individually. She presented each with a Certificate of Honorary Citizenship. Merkel read, "On behalf of the citizens of the Town of Herndon and the Herndon Town Council, we welcome you to our community and hope you enjoy your visit."
Merkel asked SangGeun Lee to come forward. Hidden in her hand, Merkel held a gift traditionally given by a mayor to an honored guest or dignity symbolizing trust and autonomy — the Town Key. On behalf of the town's residents and Town Councilmembers, Merkel offered Lee the key. He bowed slightly, graciously thanked Merkel, and said he was honored to receive it. Then Lee presented Merkel with a set of handcrafted notecards on fine paper originated in South Korea.
With gifts exchanged, certificates presented and formalities completed, Merkel asked the town's guest if they would like to sit on the dais, the raised platform where she and Town councilmembers sit during town hall meetings and hear input from residents.
With smiles all around, the South Korean guests took seats. HanSeong Choi sat in Merkel's chair with Grandmaster GiJin Lee in Vice Mayor Jennifer Baker's seat. Choi had the largest smile on his face. Looking around the chamber, Choi brought the gavel down once; then twice. Meeting closed he announced.
For more information regarding Requests for Town of Herndon Council Recognition, visit herndon-va.gov/government/mayor-town-council/request-council-recognition.