One night each week, Sue Thompson can be found dribbling a basketball down the court, leading her team, the Nova United, to victory. Thompson, who is in her 60s, is one of the youngest players in her league, the National Senior Women's Basketball Association.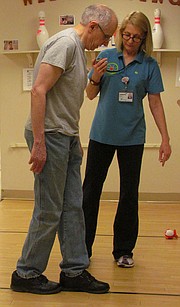 "There are women who play with me who are 80 and living out their dream to play basketball. We were way before Title IX," said Thompson, who is also a professor of physical education at Northern Virginia Community College in Annandale and Alexandria, Va. "The women are fit, but with seniors, the social part is really important. Some of the ladies have been widowed or have spouses with health issues. They've really been a support group for each other."
According to the American College of Sports Medicine, Thompson is part of a national fitness trend: fitness programs for older adults, including strength training and team sports. Fitness programs for the now-retired and retiring baby boom generation are increasing in popularity.
New research continues to show the benefits of exercise, aerobic and strength training, range from delayed cognitive decline and a boost in social functioning to an ability to manage chronic diseases and even turn back time.
"There are a lot of benefits for the aging population," said Lisa M.K. Chin, an assistant research professor at George Mason University's Department of Rehabilitation Science in Fairfax, Virginia. Exercise "slows physiological changes that come with aging. ... The other thing that exercise manages is chronic diseases that come with aging, such as cardiovascular problems or diabetes."
Mark Brasler, a 69-year-old who lives in Springfield, Va., has been active for most of the past 20 years. He moved into a retirement community four months ago and got a fitness assessment in the property's gym. The results led him to up his fitness game.

"I still walk every morning and do weights and resistance machines every other day," said Brasler. "I was also told that I needed to take balance class. We focus on agility, how to stand up straight and how to get up when you fall. We also do stretching, yoga and Pilates. I feel more confident about myself."
Such fitness classes can help preserve mobility and cognitive function, say researchers. "It helps in terms of preserving bone mass and maintaining mobility longer," said Chin. "If you're using your muscles, especially during weight-bearing exercises, ultimately it reduces the risk of falling and improves balance."
An exercise class that includes both aerobic, strength and balance exercises can help preserve freedom and independence for seniors. "The key components of staying physically active are having strong muscles, reasonable flexibility and endurance, such as the ability to keep walking or doing an activity and not getting tired and fatigued right away," said Rita Wong, professor of physical therapy and associate dean of graduate and professional studies at Marymount University in Arlington. "It's essential to keep oneself mobile and active."
It's almost never too late to increase fitness levels, Wong said. "Often with older adults, people think that they can't improve anymore so why bother. But research has shown time and time again that older adults have an ability to improve that is as similar as young adults'."
One fitness class that is multi-generational and incorporates aerobic exercise, balance and strength training is the newly formed TRUE Fit in Arlington, Va. The goal of the all-outdoor class sessions is to marry effective exercise with camaraderie, much like Brasler's experience.

"People need community [and are] finding it in a holistic approach to exercise at their own comfort level," said Nina Elliot, founder of the TRUE Fit program and co-owner of TRUE Health and Wholeness. "People work out to the best of their ability and everybody gets a workout that's right for their body. They're given modifications and the focus is to do your best, have fun and enjoy exercise."
Elliot believes exercising in groups has an accountability factor. "The number one thing that can keep you from aging is exercise," she said. "Aging can be very isolating for some people. The more people can get out and be around people, the better."