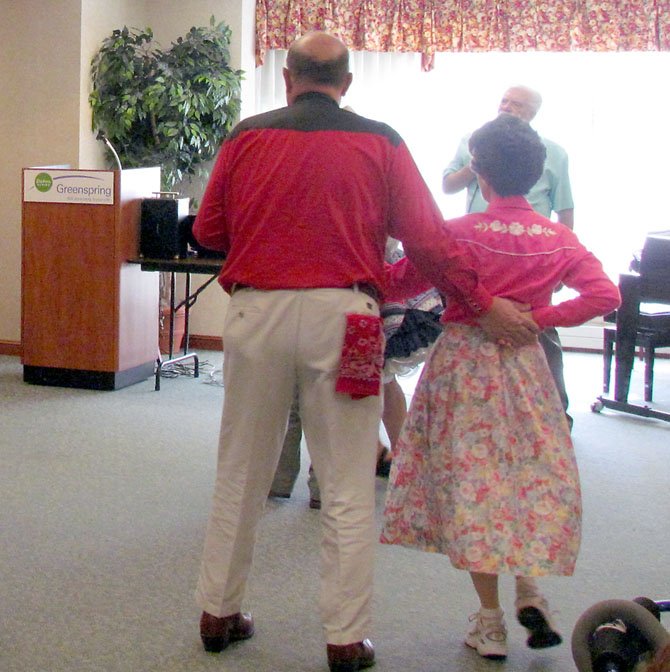 Springfield resident Fred Griffin enjoys a good hoe down and takes pleasure in doing a do-si-do. In fact, he has been square dancing since high school.
"At this time in my life, square dancing is the most enjoyable exercise activity, as well as the most consuming mind and body activity, that I participate in," said Griffin, a 76-year-old resident of Greenspring retirement community.
Researchers say dancing can improve mental and physical well-being in the elderly. According to studies published in Frontiers in Aging Neuroscience, dancing can improve cognitive ability and balance, and decrease the risk of falling that often increases with age.
"The key to improving balance and coordination, regardless of age, is to challenge it," said Rita Wong, a professor of physical therapy at Marymount University in Arlington. "Dance can be a fun and effective way to challenge your balance and to improve the control and coordination of your muscles. [This gives you] better control of unanticipated challenges to your balance that occur in real life situations, which may result in a fall if the body is not able to quickly respond to a balance challenge."
Wong said dancing is effective because it requires using arms, legs, and torso in coordinated patterns.
"Ongoing dance classes should gradually increase the speed and complexity of the dance steps as participants improve with practice," she said. "The amount of challenge should start out geared to the physical activity level of the person."
Juanita Kuntz, a Springfield-based wellness coordinator, agrees: "Dance classes, just by their very nature, help maintain balance, coordination and agility. These all help reduce the risk of falling," she said. "Aerobic activity provides extra energy and helps you relax and sleep better."
Dancing, like other forms of exercise, can improve mental clarity: "Research shows that physical activity can positively affect connections between nerves in the brain, thereby improving attention and information-processing skills," Dominique Banville, director of George Mason University's Division of Health and Human Performance in Fairfax, said in an email.
Kuntz also said that dancing can be a pleasurable social opportunity for seniors: "Add the fun and friends to the mix of a dance class, and it is a near perfect activity for many…seniors."