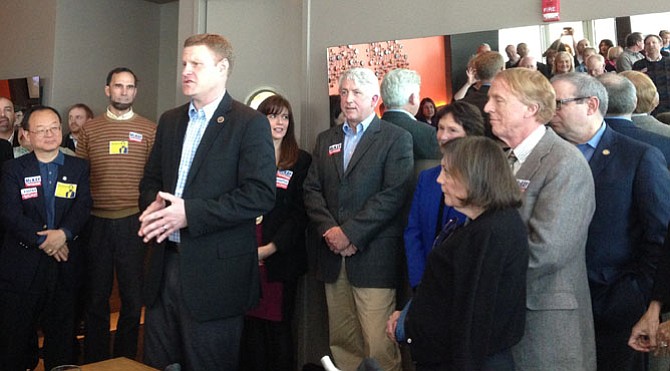 Jeff McKay (D-Lee) will seek his third term as Lee District Supervisor. The Alexandria resident formally began his campaign at a March 28 event held at Walker's Grille in the Alexandria area of Lee District.
McKay served as Chief of Staff to predecessor Dana Kauffman before being elected to his first term in November 2007.
"When I look forward to the next four years, there's still a lot of unfinished business," McKay said. "You all matter, and I'm going to fight like heck to make sure we get the things we need in Lee District to move this County forward in the progressive, smart, level-headed, collaborative way that you expect from your County government."
Among supporters present was Virginia Attorney General Mark Herring. "I couldn't ask for a more knowledgeable and effective partner on the issues important to Fairfax County and Northern Virginia than Jeff McKay," Herring said in a statement. "Over the years, we've worked together to ease gridlock on our roads and improve our transportation infrastructure, and strengthen our public school system. Jeff's work on transportation solutions, helping our students and teachers succeed, responsible development and even animal welfare has been a real advantage for Fairfax County."
Board of Supervisors Chairman Sharon Bulova also gave McKay her support. "I look forward to another four years working with Supervisor McKay," she said in a statement. "His transportation and legislative experience is invaluable to this County and his constituent service is second to none."
For more information on McKay, visit www.jeffmckay.net.