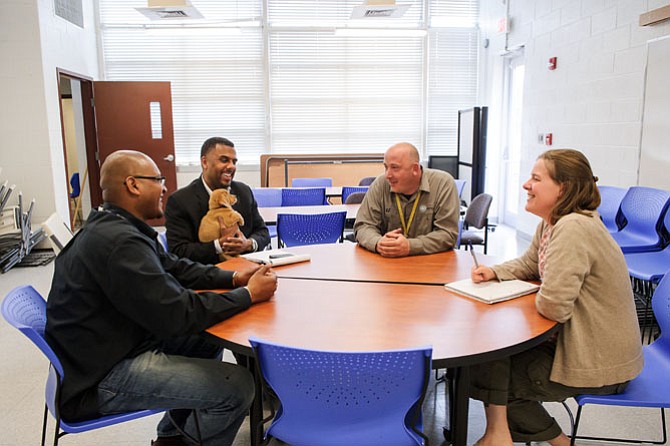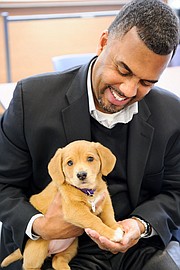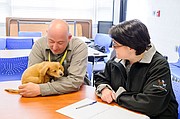 The animals at Alexandria's Vola Lawson Animal Shelter are cozier than ever these days, thanks to a new state-of-the-art heating system recently installed.
The new heating, ventilation and air-conditioning (HVAC) system was provided by the City of Alexandria to the shelter, which is operated by the Animal Welfare League of Alexandria (AWLA). It's all part of an increasingly vibrant partnership between the city and the AWLA designed to benefit the animals of Alexandria, both pets and wildlife.
"Almost every department of the city — General Services, Health, Licensing, Police — connects to the shelter in some way," said Charlotte Hall, chair of the AWLA Board of Directors. "The city is a real lifeline to the shelter, and vice versa."
Deputy Director of Administration Alfred Coleman oversees the relationship on behalf of the city. "We work very closely with the AWLA year-round to meet the shelter's needs," he said. "Increased communication and cooperation with the league's director have made our relationship better than ever."
A recently signed 29-page contract, continuing a relationship first forged in 1989, spells out the city's responsibilities to the shelter — maintaining the facility, equipment and vehicles and providing custodial services. In return, the AWLA provides animal shelter management and animal-control services to the city. Under the agreement, the AWLA regularly informs Coleman of its needs, and any necessary repairs or purchases that are consistent with the terms of the agreement come out of the city budget, which allocated $30,000 to the shelter for 2015. Recent purchases made to improve shelter operations have included two new vehicles — one of them a pickup truck that Animal Control Officers can use to transport dead or injured animals — and a web-based system that will allow pet owners to register their dogs or cats or renew existing pet licenses online.
The new HVAC system, which eventually will provide remote monitoring of kennel temperatures, was proposed by Building Engineer Kevin Jones, a city employee who's a regular presence at the shelter and who works closely with city Portfolio Manager Patrice McAuliffe and Building Manager Pelham Park to keep systems running smoothly. The new HVAC arrangement, which is a heat-pump system with electrical backup, replaced a propane system and should save money for the city, Coleman said.
Coleman, a dog lover himself, visits the shelter every few weeks and meets with Executive Director Megan Webb once a month to review shelter needs. On the list for the 2016 budget is the addition of covers for the outside portion of each dog's kennel to provide extra protection from the elements. Taking care of animals is central to the character of Alexandria, Coleman says. "Alexandria is such an animal-friendly town."