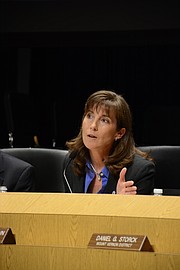 Just over a month after the Fairfax County Board of Supervisors voted to give the next board a $20,000-a-year pay raise, the School Board followed suit. In a 5-4 vote (three abstentions) at the April 9 meeting, the board approved raising the member salary from $20,000 to $32,000, with an additional $2,000 annually for the board chair.
Virginia Code doesn't allow sitting boards to raise their own salaries, so the change will become effective Jan. 1, 2016, when newly elected or re-elected board members begin their terms that last until 2019.
Noting that the last salary increase was in 2007 and 1999 before that, at-large member Ilryong Moon said he felt "we should not wait until 2019 to have this discussion."
Moon initially moved to increase the salaries to $37,500, then offered an amendment to the lower amount.
"This proposal is to provide a reasonable, modest support for board members to be able to do their job, put in the number of hours required every day, every week, for the entire year," he said. With changes in technology, Moon said, board members have needed to devote more time to being immediately responsive to a barrage of electronic communication.
Moon also cited the lower current salary as a deterrent for a wider spectrum of people deciding to run for a position on the School Board.
"The responsibility of serving should be open to all people who have the necessary skill sets and dedication to serve, not just those who are independently wealthy or with spouses who can support them," he said.
Braddock District representative Megan McLaughlin agreed with Moon that the rigors of being a member — responding to emails and phone calls, visiting schools and attending meetings and work sessions — amounts to more of a full-time job than part-time. But she also acknowledged she knew what the challenges would be going into the position.
"My community has not felt this was in the best interests," she said. "To our teachers, this entire board cares very much and knows we are struggling to have competitive wages, and are committed to doing that. This is not the time and the optics alone are problematic."
Twenty-seven people spoke at a public hearing on the subject, including individual citizens, a teacher and representatives from the Fairfax Education Association and Fairfax County Federation of Teachers. The group included viewpoints both for and against the raise.
Pat Hynes, Hunter Mill District representative, argued that while the board would benefit from having more teachers serve in its ranks, the requirement that a teacher quit teaching and take a substantial pay reduction to do so is a tough sell for them.
"I know we need that voice on this board," she said, but teachers "cannot make the numbers work for their families. It breaks my heart because I can't convince them to do this."
For at-large member Ryan McElveen, the debate raised a broader question about how society values its public officials. "There is a lack of respect for what we do as educators, and and even greater lack of respect for what we do as education officials. … The fact that we have had more people sign up to testify to protest potential school board raises tonight than showed up to testify before the Board of Supervisors to support our school system budget is emblematic of this critical American paradox."
Though citing his duty to serve the public that elected him, McElveen said he would be "voting against my conscience," against the salary raise.
Chairman Tammy Derenak Kaufax acknowledged the time and financial demands for serving are great, and that as a board, "We want to ensure those with a passion will not turn away."
To the Fairfax County teachers, she said, "We are adamant about how we hope you can be treated, compensated. We know employees are the heart of our system, teachers heart of our classrooms. We want to know at least one barrier to running has been helped."
The final votes in favor included Ilryong Moon (at-large), Patricia Hynes (Hunter Mill), Tamara D. Kaufax (Lee, chairman), Theodore Velkoff (at-large, vice chairman) and Sandra S. Evans (Mason). Those voting against were Patricia S. Reed (Providence), Ryan McElveen (at-large), Kathy L Smith (Sully), and Megan McLaughlin (Braddock). Abstaining were Daniel G Storck (Mount Vernon), Jane K Strauss (Dranesville) and Elizabeth Schultz (Springfield).