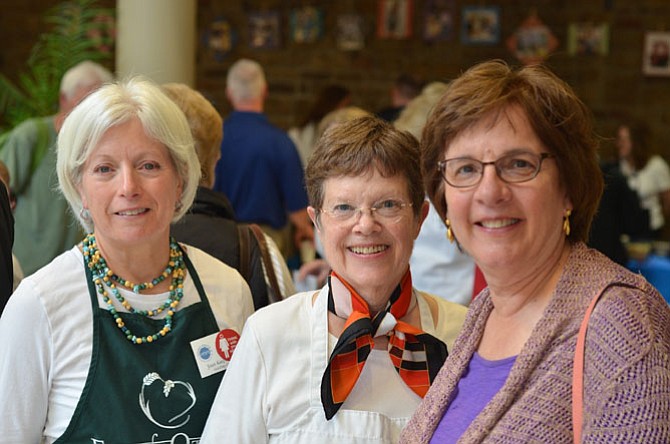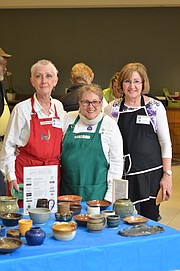 On April 10, the 8th annual Empty Bowls event was hosted by the Giving Circle of HOPE at Floris United Methodist Church on Frying Pan Road in Herndon. Proceeds went directly to Food for Others, the largest distributor of free food to needy people in Northern Virginia. Tickets were $25 and could be purchased at the door or online. The Giving Circle of HOPE was founded in January 2004 with four members. Since then, membership has grown to over 100 individuals.
For a small donation, guests attending the Empty Bowl fundraiser received a supper of soup, bread, a beverage and dessert and a handmade ceramic bowl they may keep as a reminder that there are those in our community with empty bowls. "There was a lot of pottery this year, we had over 700 pieces," said Joan Kasprowicz, one of the founding members the Giving Circle of HOPE.
This year's event raised $36,025.68 -- roughly $10,000 more than in 2014.
In 2003, the four original founders of The Giving Circle of HOPE, Diana Katz, Joan Kasprowicz, Linda Strup, and Mary Narayan, were helping raise funds for a friend injured in an accident. The founders held their first organizing event in January 2004 and invited others to help formalize the new organization. The Giving Circle of HOPE is made up of male and female members, 50 percent of whom still work full-time. Voting members contribute $365 or more annually and are eligible to vote on grants, participate in service programs, and attend social and special events.
"We just want to continue keeping people's interest," said Cathy Waters. A new addition to this year's event was a pottery demonstration by Laurie Perl in the church lobby. In 2015, the Giving Circle of HOPE will focus on sustainability, as the founders want the leadership and membership to grow and the organization to strengthen. They are working diligently to plan the next 10 years while maintaining the Giving Circle of HOPE brand. "Everything here is done by the generosity of others," said volunteer Barbara Phillipps. The service oriented event draws Girl Scouts from Vienna, Reston, and Great Falls. Approximately 90 Girl Scouts helped volunteer at the evening event. "It brings the community together and it serves a need," said Scott Rakestraw, a congregant of Floris United Methodist Church.
A study at the University of Virginia estimates 24 percent of households in our region cannot adequately meet basic needs without help. While Fairfax County is one of the richest counties in America, almost 6 percent of the residents live below the federal poverty threshold. Many people struggle to survive in this area because of the high cost of living.
There will be an orientation for new and prospective members of the Giving Circle of Hope at the Reston Museum on Wednesday, May 6, beginning at 7 p.m. The event is open to the public and light refreshments will be served.
The 12th Annual Food for Others Golf Tournament, presented by First Potomac Realty Trust, will be held on May 11, at the Springfield Golf & Country Club, a private course in Springfield. Last year's event raised over $20,000 to benefit clients.