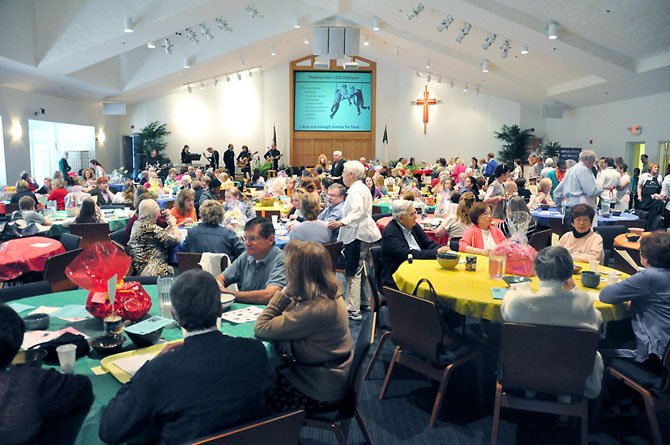 Herndon — More than 500 people gathered at the Floris United Methodist Church Friday, April 13 to help raise money and awareness for hungry people in the area. The annual Empty Bowls event, which raised money for local food bank Food For Others and hosted by the Giving Circle of HOPE, allowed guests to enjoy soups, snacks and deserts from local eateries, as well as take home a handmade bowl made by local potters, all for a $20 donation.
"This is a new venue this year, so we're introduced to a new community, but we also brought some members of the old community with us," said Cathy Waters, chair of the event, which was at St. John Neumann Catholic Church for the past few years. "It's a simple concept, and it allows people to come together and learn about hungry people, and how they can help."
Soups were donated by Amphora (tomato Florentine), Clyde's of Reston (clam chowder and chili) and Brock and Company (veggie chili and carrot parsnip). Great Harvest Bakery donated bread for dipping and Chantel's Cakes and Pastries donated the desserts.
"We had so many potters come out and support us. One woman from Chantilly called to donate bowls, her father was from Thailand and a potter, and she gave us some beautiful bowls," Waters said. "Another woman in Vienna did the same thing, she just called and said she would like to donate some bowls. People just wanted to be a part of this."
Potters from the Reston Community Center, the Herndon Community Center, the Clay Connection, Clay Café of Chantilly and the Bowman House Arts and Crafts Center in Vienna also donated bowls.


LAST YEAR the event raised almost $20,000 for Food For Others, and organizers hoped to raise that amount this year.
"We usually sell about 500 tickets, and this year we had got a last minute bowl donations, so we had an additional 100 to sell at the door," said Linda Strup, a volunteer and past chair of the event. "We also had a slide show going and passed out information to the tables about hunger and food insecurity for people to talk about while they eat."
Food insecurity is the lack of availability of food to an individual. In Fairfax County, one out of every 12 children under age 15, every 14 children under 18 and 20 people over the age of 65 are living in poverty.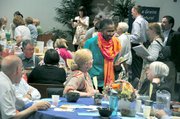 "I thought it was a great idea to give us those facts and figures to discuss while we ate, because it's one thing to donate money, but it was very enlightening to carry on a conversation about problems and solutions," said Candy Kuroda of Reston. "I think the literature we got from Food For Others and the conversations I had definitely left an impression on me, and every time I see my bowl at home, I'll think about that conversation and ways to fight hunger."
Much of the heavy lifting at the event was done by more than 90 Girl Scouts from 18 local troops who refilled drinks, cleaned and bussed tables, greeted guests and helped them pick out their bowls upon arrival. Deborah Miles was part of the event five years ago, when she just had 14 girls from her troop.
"The girls are from fifth grade up to seniors in high school, and it's one of those events where they ask about it all year round," Miles said. "It's rewarding for them to be part of such a significant event."


FOOD FOR OTHERS is the largest distributor of free food in the Northern Virginia area, distributing more than 2.7 million pounds of food last year. They have a warehouse in the City of Fairfax and 15 other sites in the area in Fairfax and Arlington Counties, as well as the City of Falls Church. They also provide support for 25 other local organizations.
More information can be found at www.foodforothers.org.