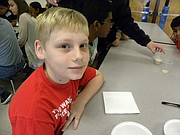 Watching yeast rise may not be the most exciting, unless it involves baking cinnamon rolls, but by the end of the day, middle school students from Fairfax County will have had a chance to extract strawberry DNA, study soap molecules, learn about centripetal force and build a motor from scratch. These are the experiments Project BEST, Building Excitement for Science and Technology, had at Langston Hughes Middle School in Reston on Saturday, April 18 during its third annual Science Innovation and Inspiration Youth Conference.
About 50 students attended Saturday morning, with more expected to arrive, to learn about chemistry, biology, physics and technology. Vienna's NT Concepts CEO Michele Bolos made the opening remarks. Speakers throughout the day included principal Evan Glazer, of Thomas Jefferson High School for Science and Technology in Alexandria, scientist Roian Egnor, of Janelia Research Campus in Ashburn, and Scott Ostergard, of NT Connections in Vienna.
Project BEST is a student-led nonprofit organization founded in 2013 by TJHSST students Parth Chopra, Robert Young, Nikhil Garg, Roy Rinberg and Dhruv Gaba. Its goal is to help students learn and understand exciting science and technological advances.