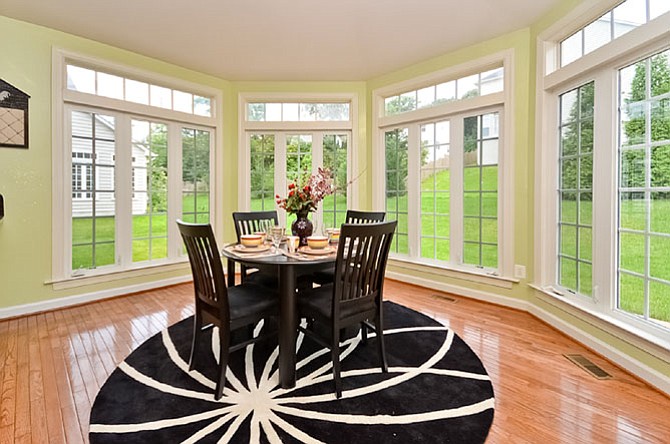 When a Burke family hired E. Diane Neustrand to sell their home, she did her standard walk-through of the house to assess it, but when she reached the dining room, she stopped cold.
"It was painted with three different shades of orange and accessorized with black, white and gold furniture," said Neustrand, a real estate agent with Long and Foster Real Estate, Inc. in Burke, Fairfax Station and Clifton.
First on Neustrand's chopping block: a pair of zebra print chairs. The boisterous wall colors were next.
"It wasn't harmonious at all," said Neustrand, who also works as a professional home stager. "We had to calm that down because orange is not a color that sells well. You want neutrals in paint and furniture, so potential buyers can visualize their own items in your home."
Residential real estate staging, the practice of preparing a home to go on the market for sale by making it aesthetically appealing, is credited with giving homes an advantage over the competition.
Staging can range from rearranging furniture, decluttering and painting the walls to furnishing a home in which the seller no longer resides.
The National Association of Realtors' 2015 Investment & Home Buyers Survey showed that staging can have a positive impact on the number of days a home sits on the market and the amount of money potential buyers a willing offer for the home.
"STAGED HOMES traditionally present themselves better than the competition by being clean, clutter-free and ready to show to prospective buyers," said Mona Bekheet, a real estate agent with McEnearney Associates, Inc. in McLean. "Home staging is decluttering, depersonalizing and preparing a seller's home to look like a model home so the potential buyers can see themselves living in the home."
The survey showed that 49 percent of agents say most buyers are affected by home staging, while a 2013 study by the Real Estate Staging Association showed staged homes sold 83 percent sooner than houses that weren't staged.
Realtors also believe buyers usually offer a 1-5 percent increase on the value of a staged home.
"Staged homes take less time on the market and they sell at the best price," said Bekheet. "Buyers view them as well cared for properties and appraisers are more likely to appraise staged homes at a full or higher value."
That increase can offset the expense of having a home professionally staged. Services, including consultations and furniture rental, can cost $250 to $2,000. Neustrand uses as many of the homeowners' possessions as she can to minimize out-of-pocket expenses.
"Since staging gives a home a clean, fresh, current look, it makes a home more attractive to buyers," said Betsy Schuman Dodek of Washington Fine Properties in Potomac, Md.
However, real estate agents say initiating conversations with homeowners about their homes and suggesting changes must be handled delicately.
"You don't want to hurt someone's feelings by telling them that they need to move items or get rid of items like the wrong artwork or too much furniture," said Maria Smith of Arlington Realty in Arlington. "But the homeowner's objective should be to sell the home."
Staging helps when a home is too cluttered, or even if a house is already empty. It's also a good idea "for those with dated, mismatched furniture or too many pieces in a room," said Realtor Marsha Schuman of Washington Fine Properties. "For homes that don't have a traditional floor plan, staging helps a buyer see how the rooms can be laid out."
"Even if you have a large home, if your closets are over-stuffed or if you have too much furniture, a prospective buyer can't get a sense of the space and dimension of a room or visualize themselves in the home," said E.J. Stone, a real estate agent with Coldwell Banker Residential Brokerage in Alexandria.
REMOVING ULTRA-PERSONAL ITEMS like family pictures or bills is another part of the staging process.
"You want to get a potential buyer to envision their things in the home," said Stone. "Neutrals can help with that. Those are things that a home stager can suggest."
Less is often more in the home staging game, say Realtors. "I tell my clients to take stuff off the walls, rent a storage space and take all the stuff you don't need and put it into a storage unit, so it opens up more space," said Michael Richter, real estate agent for residential preferred properties at the Richter Group in Burke.
Realtors rank the living room as the number one room to stage, followed by the kitchen. Also in the top five rooms are the master bedroom, dining room and the bathroom.
"Your home should be a model home, like no one lives there," said Neustrand. "The bathroom counters should not have products or clutter. There should not be trash in the garbage can."