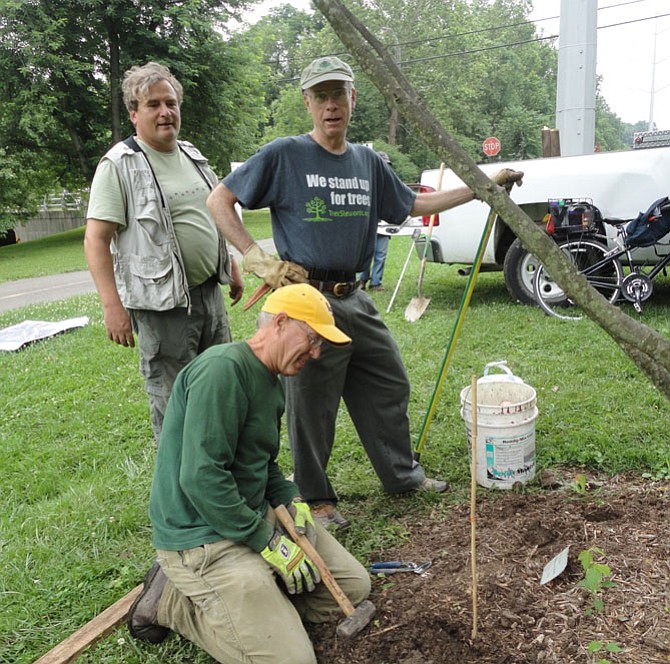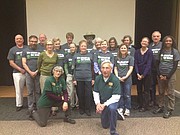 Tree Stewards of Arlington and Alexandria graduated a class of 20 new Tree Stewards on April 14. Fourteen of the new stewards were Arlingtonians, and six were Alexandrians. There are currently 92 Tree Stewards for the area. The new graduates, who have been in class once a week since Feb. 3, learned the anatomy of trees, how to prune, how to plant, tree identification, and how to assess tree problems, among other sessions. Tree Stewards' mission is to enhance a sustainable urban forest through volunteer activities and public educations programs.
Tree Stewards have been active in invasive plant removal in Arlington and Alexandria parks, pulling ivy off trees, helping homeowners select the right trees for their yards, and installing tree identification signs, along with a host of other volunteer activities.
One of the first lessons the new stewards read in their Tree Steward manual was the importance of trees: trees makes homes for birds and other wildlife, they shade houses, reduce air conditioning needs by up to 30 percent and cool the air by 9-13 percent on a hot summer day. Trees can also absorb huge amounts of CO2 emissions. Trees can increase property values by up to 10 percent; they also absorb rain and filter runoff, improving water quality and saving taxpayers millions of dollars. And lastly, trees are diplomats: they act as sound barriers and screens, reducing noise levels, providing privacy and enhancing neighbor relations.
For more information, to become a steward, or to participate in volunteer events coming up, contact info@TreesStewards.org or visit www.TreeStewards.org.