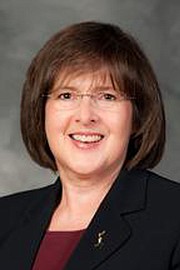 Name: Kathy L. Smith
Neighborhood: Poplar Tree Estates in Chantilly (Rocky Run Precinct)
Occupation: School Board Member, FCPS
Family information: Husband, Steve; four children, Brian (wife Leah), Kyle, Andrew, Stephanie and three granddaughters
Kathy Smith, Sully District representative on the Fairfax County School Board, is running as the Democratic candidate for the supervisor's seat being vacated by Michael Frey.
What have been your accomplishments in the community?
Before being elected to the School Board, I was president of the Poplar Tree, Rocky Run and Chantilly PTAs. I've also served in numerous leadership roles in various youth sports in our area. Since being elected to the School Board, I have been elected chairman of the board for three years, vice chair for two years, and have chaired the Governance ​C​ommittee, Administration and General Services ​C​ommittee and the Instruction, Special Services and Youth Development ​C​ommittee. I was also selected by the School Board to co-chair our joint Infrastructure Financing Committee with the Board of Supervisors.
Why are you running for the Board of Supervisors?
This was a tough decision for me to make. I've loved working as your School Board member for the last 13 years, and I've spent my life working on issues important to families and children. After much consideration, I decided to run because the Board of Supervisors is often even more important to those issues than the School Board.

I want to take a broader look at how to improve the quality of life in Sully District, while staying in the moderate political tradition of this area. Fifty-three percent of the county's budget goes to our schools, but we have not had a former School Board member on the Board of Supervisors in over a decade. While heading our joint School Board-Board of Supervisors Infrastructure Financing​ Committee, I saw many ways we could better integrate services and save taxpayers money.

Providing the same quality of life that my family has enjoyed here requires common sense solutions to current problems, and also a creative and innovative plan for the future. Good roads, safe streets, cohesive communities and first class schools are only the basics. We must be prepared to offer opportunities for young professionals, security for our senior citizens, and a means for our newest residents to fully participate in our communities.
Fairfax County is continuing to grow and change, and nowhere is that more evident than in the Sully District. I want to take my experience on the School Board, where I was involved in financial and capital management, to the Board of Supervisors, where I can further the development of the county and represent all the residents of Sully. Good governance requires our elected officials to be careful stewards of taxpayer money, while delivering the services that residents have a right to expect.
What is your campaign platform?
I announced my candidacy for supervisor late in January and, since that time, I have been out in neighborhoods across Sully listening and learning. I wanted to find out what issues voters are most concerned with. Here's what I've heard:
Sully District residents are concerned with the continuing transportation issues that plague our area. We want to see improvements — especially in the I-66 corridor. The reality is most Sully residents commute outside of our district for work, and that time spent commuting is time away from their families. I will make these projects a top priority for Fairfax County, working in cooperation with the state.
As your School Board member, I also hear a lot of feedback about our schools. While the feedback is mostly positive, thanks to our great teachers and principals here in Sully, we have improvements that must be made. In the tight budget years after the great recession, we have not had the resources needed for the schools, and class sizes have continued to rise.
While the School Board is in charge of operating the schools, the majority of funding comes from the Board of Supervisors. I will work as Sully supervisor to ensure education remains a priority, and that we have the funding needed to keep class size down and make sure our teachers are fairly compensated.
Earlier this year, the Washington Post reported that 92 percent of large regional office space leasing was taking place within a half mile of an existing or proposed Metro station. This statistic — along with the large commercial vacancy rate in Fairfax County — tells us that changes are on the way for our commercial space in western Fairfax. I am committed to overseeing this change and keeping Sully District a great place to live, work and play.
Why should people elect you?
Sully District knows me. I've been on the School Board as your district member since 2002; and before that, I spent over a decade as a PTA leader in this community. I've shown that I can lead in a responsible and bipartisan way while building consensus.
Supervisor Frey has been in office for 24 years and has been the cornerstone of how this community built out. When picking his replacement, we should elect a candidate who shares his record of moderate leadership that puts our people over politics. I have been that leader on the School Board and ask for a chance to do the same on the Board of Supervisors.