Photo Gallery
2015 Valor Awardees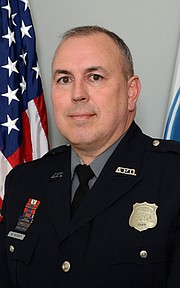 Click Photo for Flash
It was a cold and icy February morning in 2014 when Alexandria police officer Michael Nugent responded to an emergency call on South Patrick Street. A woman was standing atop a jersey wall and threatening to jump off the bridge of the I-495 overpass. On the other side of the wall was a 75-foot drop down to Cameron Run.
After attempts by Nugent and a bystander at the scene failed to convince the woman to step to safety, she leaned forward and went over the edge. The bystander, Mamie Doyle, was able to catch the woman's arm, which prevented her from falling to her death. Instead, she landed on an icy ledge no more than a few feet wide.
Despite Nugent grabbing the woman's other arm, she continued to struggle and fought to free herself from their grip. Without hesitation, Nugent jumped over the jersey wall and onto the ledge in an attempt to restrain the woman.
As the struggle continued, the woman was able to grip the edge of the ledge with her legs and pull herself forward, taking Nugent with her. Suddenly, Doyle leapt over the wall and sat on top of the victim, pinning her down and preventing her from moving closer to the edge.
After several minutes, the Fire Department and additional officers arrived on scene. As a group, they were able to bring the victim, Nugent and Doyle to safety.
As a result of Nugent's actions, the woman survived to get the help she needed. For his heroism and courage, Nugent will be presented a Gold Medal at the 2015 Valor Awards April 30 at the First Baptist Church of Alexandria.
Now in its 29th year, the Alexandria Chamber of Commerce Valor Awards will pay tribute to Nugent and 15 other public safety professionals for their exceptional performance in the line of duty.
In addition to Nugent, APD officers Steve Escobar and Carlos Ronlon, along with K-9s Gracie and Xig Xag, will receive Silver Medals.
Assistant Fire Marshall Andrea Buchanan and APD officer Erik Nygren will be honored with Bronze Medals for their performance in the line of duty. Additionally, four Certificates of Valor and seven Life Saving Awards will be presented at the event that honors public safety personnel.
For tickets or more information, call 703-549-1000 or visit www.alexchamber.com