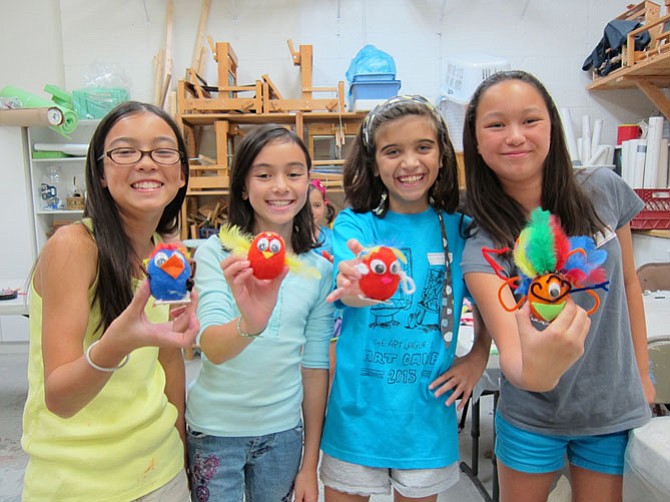 Scores of local camps in Northern Virginia that offer many opportunities for summer fun and learning. Here is a sampling of diverse camps that range from art to theater to field trips to swimming, tennis and music. There's even a camp for aspiring musicians who want to form a band.
The Art League's Summer Art Camps
The Art League's Summer Art Camp provides children ages 5-15 a wonderful introduction to visual art. In the regular art camp, each day brings a new project that may include drawing, painting, printmaking, or sculpture. Projects vary from week to week, so campers can always come back for more. The specialty camps, like Drawing Camp or Painting Camp, focus on immersion in one particular medium.
"Inspiring young artists and helping them discover the joy of innovation is a big part of our mission. It's as rewarding for us to see what the campers create as it is for them," said Executive Director Suzanne Bethel.
The Art League's Summer Art Camps are held weekly. Half-day and full-day camps include regular art camp, painting, photography, jewelry, ceramics, sculpture, fiber, drawing, cartoons, and more. Camps run weekly from June 22 through Aug. 21, 2015 at The Art League's Madison Annex, 305 Madison Street in Alexandria. Register and find details online at www.theartleague.org. Contact The Art League at school@theartleague.org or 703-683-2323.
ROAM Rock Camp
ROAM Rock Camp gives children the opportunity to build communication skills and confidence through the language of music. The camps are designed to focus on why each participant wants to be in a band, why they love music and what they want to get out of it. The goal is to create an environment or band that children will thrive in. They will hand select each member to create a group that best fits their age and or experience. During the camp, groups will learn three to four of their favorite songs or even write songs if they wish. At the end of the week they will record the group and give them a CD to take home to show off their progress.
"The best thing about these camps is that we are able to show these young musicians from first-hand experience how to be players and performers. I wish I had something like this when I was growing up," said John Patrick, owner/director, who is the former co-founder of the national touring act Virginia Coalition.
Camps are offered from June 1 to Aug. 28. To register, contact ROAM to let them know every week your child would be available to do a camp. Deadline for registration is June 1.
Contact info: Rock of Ages Music, 114 E. Del Ray Ave., Alexandria VA 22301; call 703-838-2130. Email Roam.rockofagesmusic@gmail.com.
Burgundy Farm
Burgundy Farm offers two summer camps: a day camp at the 25-acre Alexandria campus in eight week-long sessions, and a sleep-away camp in three sessions at Burgundy Center for Wildlife Studies in Capon Bridge, W.Va. Both camps are great options for children excited about learning in the outdoors with dedicated counselors. Day campers swim every day, and programs include sports, science and performing and visual arts. Sleep-away camp provides a mix of structure and freedom, fostering a respect to the natural world through greater knowledge of nature and self.
"At Burgundy Farm Summer Day Camp, our campers enjoy all the benefits of a sleep-away camp with the convenience of a day camp, including swimming, animal encounters, nature exploration, forming strong bonds and friendships with other campers and counselors, and the opportunity to build self-esteem and confidence in a fun and friendly environment," said Hugh Squire, director of auxiliary services.
Burgundy Farm Summer Day Camp is located on the Alexandria campus of Burgundy Farm Country Day School, 3700 Burgundy Road, Alexandria. Lower and upper divisions, grouped by age and interest, for children ages 3-years-8-months to 12 years old. Camp runs Monday, June 15-Friday, Aug. 7. Register at www.burgundyfarm.org/summer-programs. Contact Hugh Squire at hughs@burgundyfarm.org or 703-842-0480.
Burgundy Center for Wildlife Studies Camp is located within 500 acres in a secluded valley near Capon Bridge, W.Va. Overnight junior session (age 8-10) for one week in August - currently waitlist only; senior sessions (11-15) for two weeks in June, July or August; adult weekend (21+) in July. Register at www.burgundycenter.org. Contact Michele McCabe at michelem@burgundyfarm.org or 703-842-0470.
SummerTimes
St. Stephen's & St. Agnes SummerTimes programs offers campers ages 3-18 an enjoyable and enriching experience with programs designed to stimulate curiosity and creativity, develop talents, and encourage exploration and personal growth. Most of the camp directors are SSSAS teachers and coaches, supported by alumni and students. Operating on three campuses with state-of-the-art facilities in the heart of Alexandria, the camp strives to inspire campers all summer long.
"At SummerTimes, your child will have the opportunity to see new sights in Washington, D.C., to expand artistic horizons in an art or filmmaking camp, learn about computer programming or jewelry making, challenge their abilities in one of our many sports camps, try their hand in TechPlay, or participate in a variety of fun activities in our traditional Day Camp. We pride ourselves on offering camps that will spark an interest in your camper, and will encourage them to create and try new things on their own in a safe and nurturing place," said Jim Supple, Director of Summer Programs.
St. Stephen's & St. Agnes summer programs run from June 15-Aug. 14, offering nine weeks with a variety of camps. With more than 145 different camp sessions to choose from, there is something for campers of every age. Visit www.summertimes.org to view camp offerings, pricing, registration procedures and more. Email summerprograms@sssas.org or call 703-212-27777.
Baroody Camps
Baroody Camps offers a variety of summer enrichment camps in Northern Virginia, with everything from American Girl Doll Camp to Gymnastics to Super Heroes Theme Camp, and more. Locally owned and operated by committed educators, the camps are hand-picked through a thorough selection process. Baroody Camps offers a wide variety of academic, athletic, creative, and adventure camps for children, Kindergarten through 8th grade. In addition to the more traditional camps (sports camps, art camps, outdoors camps, educational camps, leadership camps, and academic camps) a few specialties that set the camp catalog apart from others is the Themed Day Camp offerings for the younger campers with a variety of interests, and Traveling Camps for older children who want to explore the highlights of city by Metro, hit up all of the best amusement parks in the region, or spend a few nights traveling up and down the coast to visit iconic baseball stadiums. Visit www.baroodycamps.com
"It is because we offer such an awesome variety of camps – academic, athletic, artistic, and adventure camps, to name a few– that we are able to get enthusiastic counselors and campers from all areas of interest," said Pete Baroody, president of Baroody Camps.
The camps meet in Alexandria at the Alexandria Country Day School, Saint Louis Catholic School and Saint Rita School; in Springfield at St. Bernadette Catholic School; and Falls Church at St. James Catholic School. Cost is $99 and up; for rising K to rising 8th grade. The dates are the weeks of June 15 to Aug. 17. Visit www.baroodycamps.com or www.campcity.com to register.
Burke Racquet and Swim
Burke Racquet and Swim Sport Camp has been a hidden treasure in Burke for more than 27 years. Tucked behind the Kaiser Permanente Building in Burke, the indoor camp is the ideal setting for children who want to do a variety of sports. It offers swimming, tennis, and rock climbing daily. It also offers Zumba, soccer and camp games.
All of the Sports Camp staff has been background checked through Fairfax County; they are CPR/AED trained.
The camp offers full day ($280 per week) and half day mornings or afternoons ($180 per week). There is before and after camp care for working parents. The first week of camp begins June 22 and goes through Aug. 28. Call Burke Racquet and Swim Club at 703-250-1299.
The Soccer Academy Inc.
The Soccer Academy offers a wide range of innovative, state-of-the-art programs that meet the interests and playing abilities of all players and teams. It caters to individuals and teams of all ages. All residential camps include a goalkeeping camp. Day camps include E.C. Lawrence Park in Centreville and Patriot Park for ages 5-14. Residential Camps at University of Mary Washington, Fredericksburg and Randolph Macon Academy, Front Royal, for ages 9-18. Visit www.soccer-academy.com for camp locations, costs, dates and times. Call 703-393-7961 or email soccer@soccer-academy.com.
Kenwood Summer Day Camp
Kenwood Summer Day Camp makes it their mission to provide campers with new experiences and lasting friendships each summer. "Whether it's watching a baseball game, riding a roller coaster, or seeing knights joust from the front row, we take pride in giving them these opportunities and watching them share it with their new friends," said Justin Elcano, camp director.
Kenwood Summer Day campers can go on daily field trips to exciting destinations including water parks, mini golf, roller skating, amusement parks and more. Campers also have a wide variety of activities to keep them entertained while they are on campus. There is a large wooded playground that is home to many kickball, capture the flag, and basketball games. They have five themed rooms that hold arts and crafts, video games, board games, ping pong, air hockey, and movies.
Kenwood summer day camp is open to children who have completed kindergarten through 8th grade. Camp starts June 15 and goes through Sept. 2. Visit the website to find a calendar with a schedule for each week at www.camp.kenwoodschool.com. Call 703-256- 4711 or email camp@kenwoodschool.com.
Metropolitan School of the Arts
Metropolitan School of the Arts offer pre-professional summer dance, music theater and acting camps. It also offers a wide variety of youth summer camps where students can explore and learn many facets of the performing and visual arts, including mini camps for the youngest students, ages 3-5, youth camps for students in grades 1-6, and intensives for students age 8 and up. Private summer music lessons are also available for piano, voice, guitar, violin and drums.
"MSA summer camps are the perfect way to try something new and a great way to keep young bodies active and develop new friendships," said Melissa Dobbs, president of Metropolitan School of the Arts in Lorton and Alexandria. "Whether your child is passionate about the performing arts or just looking to have some fun, MSA camps offer creative programs for all skill levels."
The Lorton campus is at 9601 Ox Road, Lorton, and the Alexandria Campus is at 5775 Barclay Road, Kingstowne, Va. Call 703-339-0444 or visit www.metropolitanarts.org.
The Langley School Summer Studio
The Langley School Summer Studio features more than 70 classes that allow for the personal, social, and intellectual growth of each camper in preschool to 8th grade. Innovative and engaging academic and STEM programs stimulate with math adventures, robots, and Raspberry Pi. Exploration abounds as campers take exciting field trips to become field scientists who investigate the Chesapeake Bay, cyclists who traverse local mountain bike terrain, and magicians who create illusions. The spotlight also shines on experiences that get campers "in the studio" with a Pulitzer Prize-winning photographer or the lead choreographer and dancer for MC Hammer.
"Each year, we look to add to our diverse roster of classes while growing the perennial favorites to ensure The Langley School Summer Studio offers the best possible experience for our campers," said Director of Auxiliary Programs Jennafer Curran. "Whether taking part in one of many field trips, exploring a new interest like soccer or dance, or refining math or reading skills, our campers develop academically, socially, and emotionally … and have a great time in the process."
The Langley School Summer Studio will run in six weekly sessions from June 15 – July 31, for students in preschool to grade 8. Classes are held at The Langley School in McLean, and take advantage of the 9.2-acre campus, featuring a wooded nature area, state-of-the-art athletic center, artificial turf field, computer labs, and age-appropriate playgrounds. Visit www.langleyschool.org/summerstudio for details or to register online. Call 703-356-1920 or email summer@langleyschool.org.
Bishop Ireton Camp
Bishop Ireton High School offers campers the opportunity to participate in sports and/or theater while developing individual and group skills and fostering a love of the activity. It offer boys camps (baseball, basketball, lacrosse and football); girls camps (basketball, lacrosse and volleyball); and coed camps (soccer, theater). Age ranges for the camps are rising 1st graders to rising seniors depending on the camp. The 17 camp sessions are conducted by the school's coaches or teachers and assisted by student counselors. Lunch is provided for full day camps by the cafeteria at no extra cost.
"Last year we had nearly 600 campers attend one of our sports or theater camps. The camps are a great way for youngsters to get to know us and for our coaches and theater teachers to get to know them," said Peter Hamer, summer camp director.
The camp brochure and sign up form can be found under the athletics tab at www.bishopireton.org. Contact Peter Hamer at hamerp@bishopireton.org or 703-212-5190.
Park Authority and Rec-PAC
The Fairfax County Park Authority offers more than 1,400 summer day camp options at 100 locations plus the six-week theme-based summer Rec-PAC programs at nearly 50 elementary schools every summer.
Camps are held at RECenters, historic sites, lakefront parks and schools and offer a variety of camp titles. Both camps and Rec-PAC offer children a chance to have fun, build friendships and have a safe and rewarding summer experience. The Rec-PAC program runs June 29 through Aug. 6 from 8:30 a.m.-3:30 p.m. daily and is open to children in Fairfax County who are rising first graders through those who finished sixth grade.
Registration begins April 27 online at www.fairfaxcounty.gov/parks/recpac www.fairfaxcounty.gov/parks/recpac. There is an $8 discount per week for those who register before June 12. Partial scholarships are available for those who qualify through free and reduced lunch program. The large summer camp program begins early June with camps for preschoolers and later in June for school age campers.
From crafts and games to high-tech and high adventure, the Park Authority has something for everyone. Many camps offer swimming at RECenters each day as well as extended care for working parents. Sports enthusiasts can choose from an array of skill-development camps, including British soccer, basketball, football, baseball, cheerleading, archery, lacrosse or extreme sports programs. Enjoy the outdoors? Then check out the boating, fishing and biking camps. Specialty camps such as Young Chef's Cooking, Chess, Geocaching and Girls Leadership allow for exploring new interests or developing a new skill. There is also an array of STEM programs that stimulate cognitive development and enhance critical thinking. New camps are available in 2015 and include Ninja Stars, Longboarding Camp, Brazilian Soccer, Overnight Camps, Stand-Up Paddle Boarding, Kayak Fishing, fun new art camps, tons of new engineering camps and many more. The search and browse options on the website (www.fairfaxcounty.gov/parks/camps) make it easy to narrow choices by location, age of children, type of camp and week of summer or check out the 2015 Summer Camp Guide.
For more information about Rec-PAC or camps, call 703-222-4664 Monday through Friday, 9 a.m.-4 p.m.
Centreville Dance Academy
Summer Camp at Centreville Dance Academy is a great way for a child to experience dance in a fun and safe atmosphere. It offers a Princess Party Camp, Broadway Bound Camp, Glitz & Glam Camp, and Me & My Doll Camp. Dancers will enjoy pretending to be their favorite characters, dressing up, and creating fun crafts. On the final day of camp there will be an in-studio performance for family and friends.
"Summer camp is a great way to expose your child to all that dance has to offer. Dance camp is a wonderful place to build lasting memories and relationships with the CDA teachers and new friends. We love seeing the dancers grow each year," said Kathy Taylor, owner/director.
Princess Party Camp offers The Little Mermaid from July 6-10; Frozen from July 27-31; Princess Ballerina from Aug. 3-7; and Frozen from Aug. 17-21.
Broadway Bound Camp is July 13-17. Glitz & Glam is July 20-24 and Aug. 10-14. Me and My Doll is June 29-July 13.
Register on the website through the Parent Portal. Centreville Dance Academy is located at 14215-G Centreville Square, Centreville. Visit www.centrevilledance.com, call 703-815-3125 or email office@centrevilledance.com.