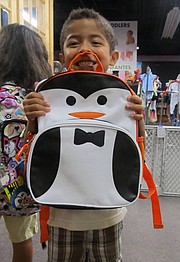 When Margo Fonoroff worked as a teacher, media specialist and principal in Montgomery County Public Schools, she recalls the first days of school as being filled with excited children clad in new clothes and shoes and carrying new backpacks. They had pencils and notebooks and calculators and were ready to begin a new school year. For some students however, the start of the school year brought shame.
"There were some kids who would bring their stuff to school in a giant plastic bag because their families couldn't afford new backpacks and school supplies," said Fonoroff, who is now retired.
That image was a sharp contrast to her own life: "I started … collecting my kids' old backpacks and bringing them to school and giving them to the kids who didn't have backpacks, and it was like Christmas for those kids."

As area students prepare for the 2015-2016 school year, Fonoroff and her husband, Bruce, are joining an organization called Interfaith Works, a nonprofit organization that works to meet the needs of the poor and homeless, providing backpacks and other school supplies for needy children in Montgomery County.
Next week, the Fonoroffs will host their Seventh Annual Park Potomac Ice Cream Social, which benefits Interfaith Works' backpack drive. The event will include face painting, door prices, an exotic car display and hot fudge sundaes. The Fonoroffs are asking community members to bring new backpacks and school supplies, which will be donated to needy students.
"It's gratifying to have these kids ready to learn and excited about going back to school instead of being ashamed," said Bruce.
He recalled a letter from a mother of three children who received new school supplies from a previous backpack drive. Her husband had passed away and she was on disability and had a limited income. "It is an extreme challenge every school year to make sure the kids have the supplies they need to start the year right and this year I really did not know what I was going to do," she wrote. "To my utter amazement, my children received beautiful, brand-new … backpacks, stuffed with every item they could possibly need. … We got home and all 3 were sitting in the middle of the living room floor looking through their items like it was Christmas! Of course I had ducked into the kitchen weeping pure tears of gratitude."
"This is really what the event is all about," Bruce said. The Fonoroffs collected more than 950 backpacks last year, and their goal this year is to take in more than 1,000.
"We encourage people to bring as many backpacks as they want," he continued. "In many cases, people with adult children have fun shopping for back-to-school supplies because they haven't done it in years."
School items that top Interfaith Works' most-needed list include packages of lined filler paper, tab dividers, two-pocket folders and pencil pouches.
"We're the lucky beneficiaries of Bruce and Margo's hard work and generosity," said Charlotte Garvey of Interfaith Works. "They work to make [the ice cream social] a fun event and to solicit a wide variety of donations to give as door prizes." In March, Interfaith Works named the Fonoroffs Humanitarians of the Year.

The Park Potomac Ice Cream Social will be held August 20, 2015 from 6:30 to 8:00 p.m. at Park Potomac development off Seven Locks Road in Potomac, Maryland. Attendees are asked to bring new school supplies and new backpacks that Interfaith Works Interfaith Clothing Center will distribute to underprivileged children. Those who are unable to attend, but would like to donate can visit http://www.iworksmc.org/.
DETAILS
Park Potomac Place, The Brownstones at Park Potomac, The Perry, and Foulger-Pratt are presenting the Seventh Annual Park Potomac Ice Cream Social.
Aug. 20, 2015, 6:30 - 8 p.m., "On the Plaza"
Every person is asked to bring a school backpack and/or school supplies for children in need.
For more information and to donate, visit: http://www.iworksmc.org/