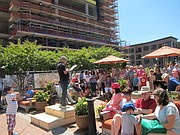 More than 1,000 Montgomery County school children began the school year with new backpacks and school supplies thanks to the generosity of some Potomac residents.
The seventh annual Park Potomac Ice Cream Social, hosted by Margo and Bruce Fonoroff, brought in 1,100 new backpacks to benefit Interfaith Works' backpack drive, Aug. 22, in spite of a two-day weather delay. The couple's goal was to collect more than 1,000.
Interfaith Works is a nonprofit organization that works to meet the needs of the poor and homeless in Montgomery County. Community members were asked to bring new backpacks and school supplies to the event, which included door prizes, an exotic car display and hot fudge sundaes.