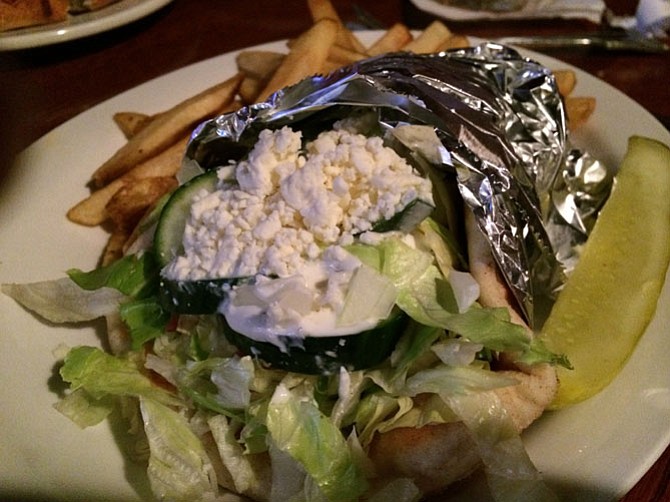 The days are getting slightly shorter, the air has a familiar crispness to it, and the dog days of summer have a little less bite. All of this can mean only one thing: The college and NFL football seasons are on the way. From beers to burgers, from wings to Greek delicacies, here are some great places to watch the game all over town.
Ramparts Tavern and Grill, 1700 Fern St.
The atmosphere you'll find in Ramparts all depends on the door you choose. If you come in via the entrance on the corner, where Kenwood Avenue meets Fern Street, you'll find a quiet, relaxed dining room where you can feast with your friends and family to your heart's content. If you enter the second door, however — the one labeled "Ramparts Tavern" — you'll find yourself amid a sports fan's paradise. Televisions dot the walls — behind the bar, on the sides of the pub, and behind you — and they're tuned at any given time to half a dozen games. Pull up a chair, ask for a local brew (Port City's always on tap), and when you get hungry, order some chili nachos, wings, or their trademark "hot peas" — flash-fried black-eyed peas that are a finger-food staple.
Bugsy's Pizza, 111 King St.
To be perfectly honest, no self-respecting list of college-football viewing spots can leave out Bugsy's, a pizza mainstay on lower King Street in Old Town. While the downstairs dining room offers great service and great pizza, the upstairs is where you'll want to go to catch the big (or little) game. The sports bar is cozy but welcoming; you needn't feel like you have to be a regular to sit back and watch your favorite team play. Order one of the restaurant's specialty pizzas — you can't go wrong with the Farmer's Market or Taco pies — and a pitcher of beer with some friends and you'll be in excellent shape. The restaurant's pasta and calzone options are great choices, too.
Reynolds Street Bar and Grill, 34 Reynolds St.
Situated just off of Duke Street in the West End of Alexandria, Reynolds Street Bar and Grill has plenty of character – and, during games, plenty of characters, too. This eatery is far and away one of Alexandria's quintessential sports bars, sporting plenty of TVs, friendly waitstaff and bartenders, congenial diners, and good food. The menu has plenty of the game-watching foods you'd expect — wings, pizza, burgers, and the like — but be sure to give the Greek items a try, too: The spanakopita and pita wraps are hearty hallmarks of Greek cuisine.
Southside 815, 815 S. Washington St.
Let's get one thing straight: You'll always find a crowd awaiting you at Southside. But in general, it's a friendly crowd, and there's always one bar stool available just for you. From the time the restaurant opens at 11:30 a.m. on Saturdays until closing time, the sports bar area draws a crowd, and the multiple televisions are turned to all the major games of the day. If you're looking for an appetizer to share, you can't go wrong with the Boardinghouse Breadbasket — an array of cornbreads, biscuits, and more — or the Southside nachos, which will surely feed a crowd. If you're looking for hearty meal for one, the sausage biscuits and gravy are offered during brunch on the weekends (perfect for the noon game), and the jambalaya pasta will carry you through in the evening.
Theismann's Restaurant and Bar, 1800 Diagonal Road
Of course, no football-viewing list is complete without Theismann's, founded nearly four decades ago by Washington football team quarterback Joe Theismann. The bar is a great place to watch the game with no interruptions; the dining room offers a more relaxed viewing experience. (And on nice days, if the game is going poorly you can abandon it entirely and sit outside.) The restaurant offers brunch, lunch, and dinner on the weekends; you'd do well to order the CAB salad if you're feeling virtuous, and the crab cakes if you're not.
Hope Nelson owns and operates the Kitchen Recessionista blog, located at www.kitchenrecessionista.com.