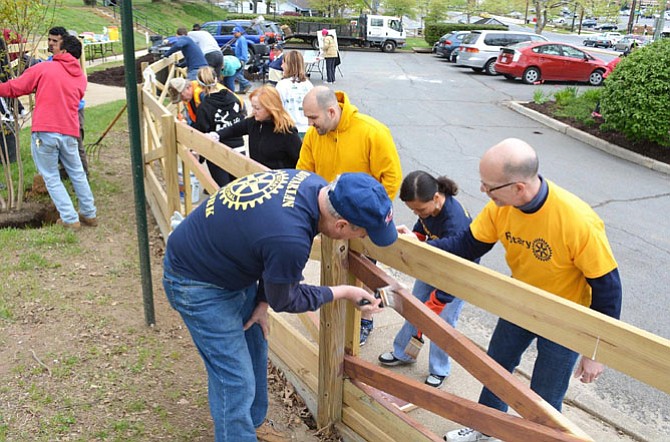 It was Martin Luther King Jr. who said "Everybody can be great because anybody can serve." Whether you have five minutes or five hours, consider joining one of the many organizations in Alexandria that help solve problems, improve lives, connect citizens and strengthen the community.
Alexandria Rotary Club
P. O. Box 320666
Alexandria, Va. 22320
www.alexandriarotary.org
Alexandria West Rotary Club
www.awrotary.org
Kiwanis, Kiwanis of Del Ray
www.alexandriakiwanis.org
Jaycees
PO Box 1836
Alexandria, Va. 22313
www.alexjaycees.org
Volunteer Alexandria
123 N. Alfred St.
Alexandria, Va. 22314
www.volunteeralexandria.org
Alexandria Chamber of Commerce
801 N. Fairfax St. # 207
Alexandria, Va. 22314
www.alexchamber.com
Del Ray Business Association
2308 Mount Vernon Avenue, #727
Alexandria, Va. 22301
www.visitdelray.com
West End Business Association
3213 Duke Street, Box #128
Alexandria, Va. 22314
www.alexandriaweba.com
Old Town Business and Professional Association
PO Box 1294
Alexandria, Va. 22313
www.otbpa.com
North Old Town Citizens Association
P.O. Box 25571
Alexandria, Va. 22313
www.notice-alexandria.org
Old Town Civic Association
P.O. Box 1213
Alexandria, Va. 22313
www.oldtowncivic.org
Del Ray Citizens Association
P.O. Box 2233
Alexandria, Va. 22301
www.delraycitizens.org
Eisenhower Partnership
2121 Eisenhower Avenue, Suite 200

Alexandria, Va. 22314

eisenhowerpartnership.org