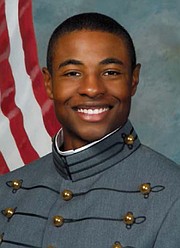 Eugene J. Coleman, III, of Alexandria, was named First Captain/Brigade Commander at the U.S. Military Academy on July 30.
Coleman, a graduate of the Class of 2012 at Mount Vernon High School, is now in his last year West Point. First Captain/Brigade Commander is the highest honor among the 4,400-member Corps of Cadets. In addition, he is president of the Class of 2016.
Because of his active involvement and leadership at West Point, he was one of two cadets selected to represent West Point at the NAACP Image Awards in Pasadena, Calif. in February 2014.
Coleman is a former student representative to the Fairfax County School Board for the 2011-2012 term. At his final school board meeting, he was honored as he received many accolades for his accomplishments while representing over 175,000 students. He was recognized by COTS (Coalition of the Silence) that established an award in his honor. This is an annual award to be given to an outstanding COTS 8th grader who demonstrates the kind of character and leadership that Coleman exemplified as student representative, student leader and community advocate.
By age 18, Coleman had already received many awards for his accomplishments. At his graduation in June 2012 from Mount Vernon High School, he was presented with a resolution from the Virginia General Assembly, House Joint Resolution 397, recognizing his accomplishments as a citizen and as student representative on the school board. In March 2012, he was awarded the Harry F. Byrd, Jr. $10,000 Leadership Award, which recognizes Virginia's top high school students from each congressional district, who exhibit excellence of character, leadership, devotion to duty, and academic accomplishment. He also received an award for student volunteer of the year from the Mount Vernon Council of Citizens Association. In addition, he has received awards and
scholarships from Apple Federal Credit Union, Mount Vernon Chapter of the Military Officers Association of America, Delta Sigma Theta Sorority, Northrop Grumman, The Northern Virginia Urban League and several others.
Because of his leadership in Marine Corps JROTC at Mount Vernon High School, he received the Legion of Valor Bronze Cross for Achievement at a Marine Corps JROTC Battalion formation in November 10, 2011. The Legion of Valor is the highest award presented to cadets in the Junior Reserve Officer Training Corps. He received the award for his outstanding academic record, leadership, participation in extra-curricular activities and community service. He received a "Sons of the American Revolution" award for leadership and Military Order of World Wars award for merit as
he has been actively involved in the community since his middle school years. He has been a community volunteer with organizations such as the Gum Springs Youth Athletic Association, which provides organized sports for youth citizens in the Gum Springs Community and surrounding areas. He also played football under this club where he received Player of the Year at the Fairfax County Football Hall of Fame in 2008. In addition, he is a volunteer with other community organizations that concentrate on building on the strengths of African American Families.
He is also a pilot and learned to fly when he was 13 years old.