The Claude Moore Colonial Farm, a privately operated living history museum and National Park, is seeking donations from the community to replace the roof on its colonial Farmhouse. The roof protects the dwelling, which is an authentic recreation of a farmhouse in 18th-century Virginia just prior to the American Revolution.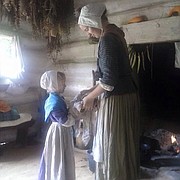 The Claude Moore Colonial Farm's 18th-century farmhouse and grounds have hosted more than 2 million visitors since 1973. The iconic one-room Farmhouse is the center of activities for visiting students, families, groups and others. Staff and volunteers demonstrate cooking and preparing food as was done in the American colonial era as well as spinning, dyeing, making soap and candles and more activities.
The Claude Moore Colonial Farm's one-room dwelling is built of hewn logs, with clay and lime filling the cracks. The roof comprises white oak clapboards coated in pitch or pine tar for weatherproofing. The roof has been repeatedly patched over the last 20 years however individual clapboards are now buckling causing nails to dislodge from support beams. A new farmhouse roof will require 300 clapboards of 52 inches in length made from white oak logs. The project also will entail using period appropriate nails. The cost for each new clapboard including materials and installation is $35. The estimated total expenditure is $10,000.
The Claude Moore Colonial Farm seeks the community's help for this project. The Farm is one of the only privately operated and funded parks in the National Park system. With the public's support the colonial Farmhouse will continue to educate and serve the community for another 20 years.
To make a $35 donation visit www.1771.org/raisetheroof/ by Dec. 18.