Heff Munson can create fire with just a plastic bag. He can make creaky stairs from rubber bands and a winch. Using a bag of rice, he can make it rain. Munson replicates the sounds as best he can, but when his program plays on Arlington's new 96.7 WERA, it sounds real.
At a party on Dec. 6 that filled their Clarendon headquarters to capacity, Arlington Independent Media launched its new radio station.
Paul LeValley, director of Arlington Independent Media, said the concept for WERA was born three ago when a small group of radio enthusiasts visited Arlington Independent Media. The Federal Communications Commission (FCC) was opening up low power frequencies to the public. The enthusiasts asked if Arlington Independent Media would hold onto the license. The board expressed interest, but the group dwindled with time. Interest by the board, however, had not.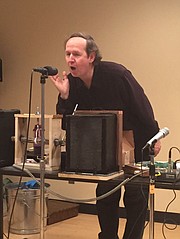 "If it was going to happen, we would have to do it," said LeValley. "So I did the research and reported to the board that it was doable."
LeValley said they filed an application with the FCC to start up a radio station and was immediately approved.
"Our 30-year track record made that part easy," said LeValley, referencing the group's 2014 Overall Excellence in Public Access in the Hometown Media competition. But the approval came with a deadline: 18 months. Meaning that by Dec. 9, 2015, WERA had to be live and on the air. Just three days before that deadline, the station went live.
"This radio station has been under consideration, under development, and under construction for three years," said LeValley. "Today, it gets under way."
LeValley acknowledged that the station cut it close to the deadline, but that there was a lot of work to be done in these 18 months. For WERA to work, LeValley said they had to find a local tower and other facilities to accommodate the broadcast. They had to collect programming, content made by and for the community.
"We're a public access channel," said LeValley, "it's all produced by local people. We have to vet the programming though, because it's broadcast, so we created a Programming Advisory Review Council that met and reviewed proposals.
Of the 75 initial proposals, around 30 or 40 were approved. The shows will undergo a three-month review and a yearly review to make sure they're fulfilling what they proposed. LeValley said he's most excited for the shows that highlight local musicians and local news and community issues.
At WERA's grand opening, local music and community issues were one of the primary focuses. Student musicians from H-B Woodlawn performed live while, at 6 p.m., County Board Chair Mary Hynes and Board member Jay Fisette were the station's first guests.
"I'm really happy that young people are getting involved and excited," said Hynes. "This is a great opportunity for telling stories and sharing ideas. This is what Arlington is all about."
Nearby, Nathan Bynum had a room cordoned off from the rest of the facility where attendees to the premiere could come in and tell a three-minute story from their lives. The best one Bynum said he heard was a woman who described her father's multiple near-death encounters on D-Day.
Down the hall, Meff Munson, AIM membership coordinator Elaine Coates, and a group of students from George Mason University's WGMU radio station performed a short comedy. "Real Estate House of Horrors," a short comedic piece written by Munson, showcased the various types of sound effects.
"I nearly got arrested going around a department store collecting these sounds," said Munson. He had been exploring the springs section of a store, holding up each one he came across and flicking it to see what sound it produced. "I was trying to find a screen door sound. I wound up using a whisk."
One of the surprises at the station's premiere was how young many of the station's contributors and supporters were. For many in younger generations, radio is making a big comeback.
"You see a lot of interest in radio at college," said Jesse Robinson, general manager for WGMU. Robinson said the power of having a radio host talking and picking songs is part of that. "A lot of people are moving away from mainstream audio. People feel more of a connection with what they're hearing on radio."
"I think it's a mixture of curiosity and people really looking for a human connection," said Jordan Grobe, radio editor at George Washington University.
Ken Kukovich, one of the station's supporters, said the rise of podcasting and live streaming of stations like WERA got his daughters interested in radio. Kukovich noted that sometimes his daughters, who don't live in the area, will listen to the Washington D.C. radio stations and send local stories to him.
"Like local newspapers, it provides information that you can't get from other sources," said Kukovich. "There's a lot of good stories out there that don't have a venue."
Or didn't, Kokovich noted, until now.