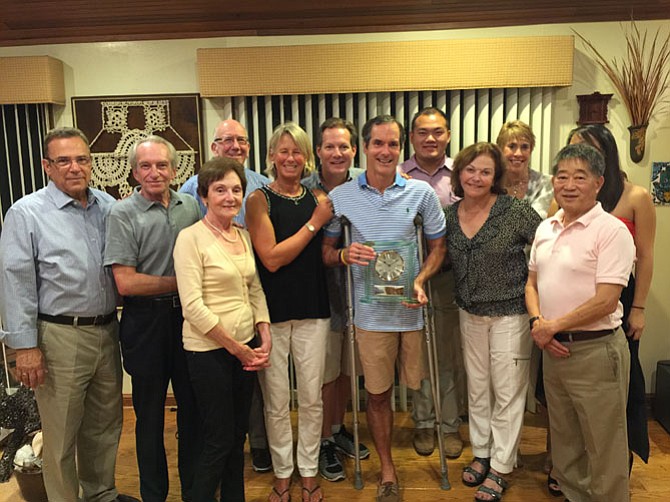 Twenty-five years ago, when Larry Chloupek joined the Friends of the Potomac Community Center (PCC) Board, basketball and baseball programs were popular among Potomac youngsters. Beanie-babies and baseball card shows were highlights and proceeds from their sales and the Flea Market helped to fund the center programs. No fitness facilities existed and ping pong was just something to do for fun — there were no table tennis competitions.
Chloupek was 29 years old when he joined the board; he worked for the government but also coached baseball at Churchill High School, his alma mater. After five years on the board, he was voted chairman — and held that position for the next 20 years. He is stepping down now to move on to "the second chapter of my life" — retiring from his position as management liaison director for the Office of the Director at the National Institutes of Health — and relocating with his wife Jen to Scottsdale, Ariz.
"This is going to be interesting. After 33 years in the government (25 spent at NIH), I envision myself staying active," Chloupek said. "I am looking forward to training for half-marathons, hiking, traveling, becoming more involved in our church and spending time with my wife. I have already assumed the presidency of our new homeowner's association in Scottsdale. I also may start a second career and work part-time. I plan to keep myself busy."
Staying busy is an understatement for Chloupek. For many years, in addition to his career in government, he coached baseball at Churchill. He also trained for and completed marathons and half-marathons. He is a Paralympian in volleyball. In 1996, he carried the Olympic torch in advance of the Atlanta Summer Games. He also is the director of "Young Adults with Cancer" and serves as a counselor at BRASS Camps for children with cancer. This interest in working with children with cancer stems from his own life — at the age of 7, he lost a leg to bone cancer. With the support of family and friends, he realized that he was capable of continuing in athletic endeavors and any activity that he decided to pursue — and he shares this outlook with others who have cancer.
As board member Jill Lavin said, "Larry will be sorely missed by everyone on the board and at the PCC. When something needs to be done, Larry accomplishes it — both competently and creatively, making it the best it can be. He is a wonderful person who has touched so many lives, working with kids, coaching basketball and baseball teams and heading our board, along with a million other things. I don't know how he does it all — and continues to look as if he is 30-something. If I were to use one word to describe Larry it would be 'inspiration.' I know he will continue his outstanding volunteer work in Arizona."
When asked what he considers the biggest changes at the Potomac Community Center have been during his tenure, he said, "The partnership with the Department of Parks and Recreation has been very positive for our community center in helping us to make changes and to grow with the times Club Friday was created and the board still runs the snack bar — board member Allan Cohen is there every Friday night and we use some of the money that we make to fund senior programs at the center. About 400 kids come to PCC to take advantage of Club Friday. When I was a kid, the building was Lake Normandy Elementary, where I went to school, then it
became a teen center where we all played basketball and baseball. We now have programs for all ages and it's a center that Potomac residents can be proud of.
"One project I am really proud of is the building of the adaptive sports court that the PCC Board spearheaded. We advocated to convert the obsolescent roller rink into an adaptive sports court which will attract organizations that cater to people with disabilities. The Friends of PCC contributed $25,000 to that project. We appealed to [County Executive] Isiah Leggett who endorsed the project and also received a Maryland State grant for it. The county has very few facilities for handicapped sports. It will be used for Special Olympics as well as for wheelchair rugby, football, basketball and more. I am thrilled that this is finally going to become a part of the Potomac Community Center. I am leaving on a high note."
Fellow board member Penny Heltzer said, "Larry has been a model of dedication for all of us that are Friends of PCC. We will miss him but know he will pick up the reins of leadership in Arizona. 'Go Larry!'"
Henry Leung who has been on the board since he was in high school is taking over as chairman and Emma Barlock will be the new treasurer. She has also been on the board since high school, so Chloupek feels that he is leaving the board in very capable hands. "I may live in Arizona, but I will come back often. My parents still live here — and I am a diehard Maryland fan," he said.