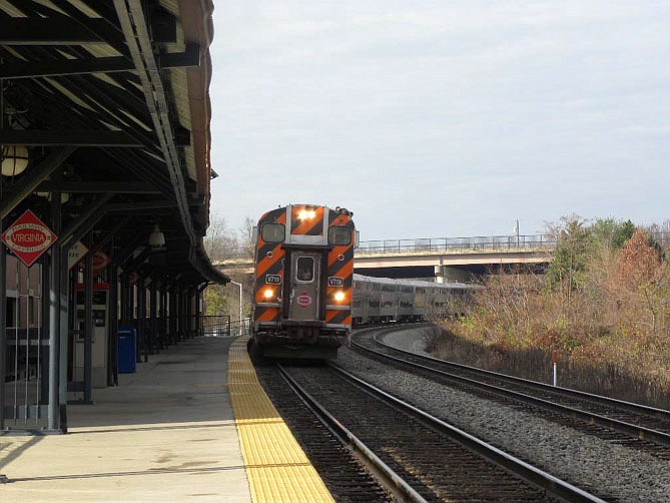 Photo Gallery
Santa Trains 2015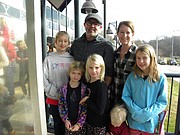 Click Photo for Flash
It was a typical scene at Burke Centre Station, a line of people waiting for the train. But these riders are not professionals dressed in business suits, reading the paper or engrossed on their phones writing important emails while waiting for their ride to work.
On Saturday, Dec. 12, these passengers were dressed in festive, holiday outfits or casual weekend wear, carrying unwrapped toys, ready to board VRE's Santa trains.
Jessica and Maddie, 4, Carroll, of Fairfax, came "to see Santa and give toys to kids that don't have any toys." Volunteers collected new, unwrapped toys for Toy for Tots as passengers boarded the train.
There are four scheduled boardings in Burke, with lines whimsically named Cupid Express, Elf Express, Frosty Express and Polar Express.
On the train, volunteers handed out candy canes and local choral groups, such as West Potomac High School's Soundsations, entertained riders.
Two sets of Santa Clauses walked the length of the train to greet the passengers. The Santas were sequestered in the middle car, with the windows covered in wrapping paper. They went out on each end when the train left the station.
Children also received a coloring book that educates them about rail safety, part of Operation Lifesaver. "Look, listen and live" is the message the organization tried to relay.
Last September, Maryland teen John DeReggi was struck by a train during a photo session by the train tracks. Federal Railroad Administration statistics noted an increase of 21.8 percent of fatalities caused by persons trespassing on railroad tracks and property in 2014, according to Operation Lifesaver.
The passengers on the Santa trains may be a little too young to traverse rail lines but it is never too early to teach them how to be safe. Lily Swoger, of Springfield, learned that one should never throw things out from the train.
Operation Lifesaver provides public education program to prevent collisions, injuries and fatalities on and around railroad tracks and crossings.