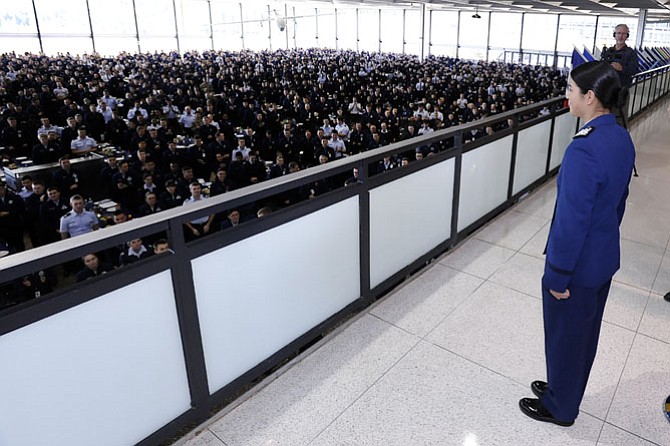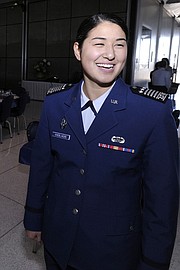 Four years ago, Sophia Vasiliadis was about to graduate from Langley High School and unsure of the direction she wanted to take in life.
Since then, it has been up, up and away. Today, the 22-year-old student at the Air Force Academy (AFA) is now leading the entire student body as the new Cadet Wing.
"What made me want to apply for Wing Commander here is the opportunity to change and make this a better place for other people here," she said.
Vasiliadis is not the first woman in the heavily male enrolled military school near Colorado Springs to become the Wing Commander of the school. In the position, she is at the head of the four wings at the academy. In the process, each wing selects its top four candidates. Those candidates go through the selection process until they are whittled to three positions: Cadet Wing, deputy commander and director of operations Commander.
According to AFA Media Relations Deputy Chief John Van Winkle, "As the top cadet, Vasiliadis carries the Cadet Wing Gold Sabre, continuing the longstanding academy tradition of the senior cadet carrying a gold sabre at ceremonial events."
Vasiliadis is using her term to focus on the basics - like events and cadet policies - but she also wants to make other subtle changes while in the position.
"Right now we're taking a look at making sure the training is purposeful," she said.
She plans on focusing on freshmen who are going through the tough basic training process and make sure everything they are going through is necessary for the rest of their time in the AFA.
SHE REMEMBERED her own basic training just three days after she graduated in May 2011.
"I didn't know what to expect," she said. "It was a good experience, but I never want to go through it again."
Taking on major leadership roles at the academy has also changed how much she hoped to be involved with the military after graduating. Originally, she applied to the school because her grandfather was an Air Force fighter pilot. Her mother, Helen Vasiliadis, said Sophia was always a leader but as the most compassionate of her five children, she was not so sure her daughter would even survive basic training.
When Vasiliadis got in and visited the campus, she knew it was the college she wanted to attend.
"The caliber of people I saw there was really amazing," Vasiliadis said.
This was despite the news reports of hazing and sexual assault towards the outnumbered female cadets.
She said she's never seen or experienced what the media has reported, but she does not deny that it exists.
"I know I feel safer here, more supported here, than in any other environment," she said. "There are people around me who are looking out for me."
Even remembering back to her days at basic training, she said she felt no one was worried whether a male or female was next to them because they were all completing the tasks they were given.
"I have had plenty of classes where I was the only girl," she said.
According to her mother, however, Sophia has never let the possibility of gender discrimination get in the way of something she wanted to do.
"When they had flag football here, she was there as one of the boys," said Helen.
THAT FEELING OF SUPPORT she has gotten from the academy will fly her through graduation in May and into pilot training in Texas immediately after. Although it means staying committed to the Air Force for 12 years, she is ready.
"When I came here, I had no interest in being a pilot or flying," she said. "I thought I was going to end up at some analyst position for a civilian company. Before I marked pilot off my list because of a fear of commitment."
Although she will miss her family - who have all gone to college and settled around Great Falls, she knows she has their support and hopes to take on leadership roles during her next 12 years in the military.
The support will be there at home - just a letter or a phone call away - whenever she needs it.
"Being a wing commander is all we could have ever hoped for," said Helen.