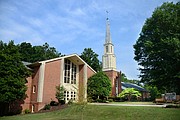 For more than three generations, peace has eluded Israel, Palestine, Lebanon, Syria and Jordan, an area known as the Holy Land.
Together with 12 other interdenominational churches and church-related organizations, Grace Presbyterian Church in Springfield is hosting a six-week film series exploring this area.
Documentaries, including "Across the Divide" (2013) by Alice Rothchild and Sharon Mullally, are meant to stimulate discussion at each program on the complexities that have prevented peace in the Holy Land.
The series is being put on by the Middle East Working Group at Grace Presbyterian Church, partnering with the Holy Land Group at Ravensworth Baptist Church in Annandale, the Palestinian Christian Alliance for Peace and other organizations spanning Northern Virginia, Washington, D.C. and Maryland.
"Voices Across the Divide" on Feb. 15 is the first film, followed by "Life in Occupied Palestine" on Feb. 22, "The Stones Cry Out" on March 1, "With God on Our Side" on March 8, "Little Town of Bethlehem" on March 15 and "Home Front " on March 22.
Each film begins at 2:30 p.m. in the Grace Presbyterian Church Wester Hall, 7434 Bath Street, Springfield. All shows are free. More information is available at gracepresby.org/voices.