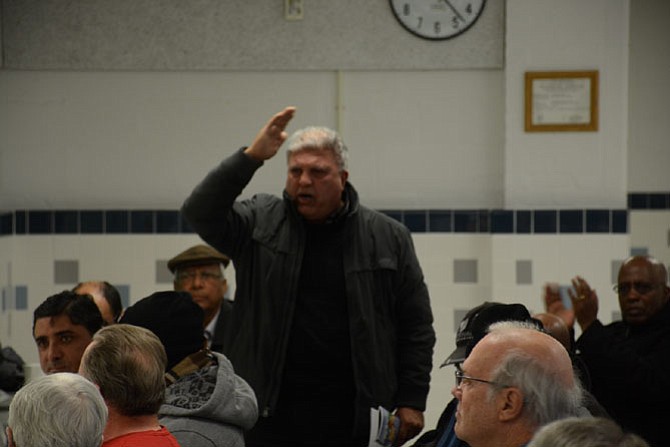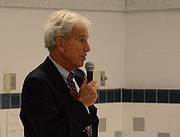 Though over a dozen taxicabs sat in the parking lot of Sleepy Hollow Elementary School, inside it was clear everyone drove themselves.
Members of the United Taxicab Operators Association (UTOA) brought a strong contingent to the Feb. 7 town hall meeting of Sens. Dick Saslaw (D-35) and Dave Marsden (D-37) to voice their support for legislation requiring more regulation of the popular rideshare program Uber.
"We want to stick to the core values of Virginia," said UTOA president Chand Dodhy of Alexandria. "They should have background checks and not be charging like a fish market. Their vehicles should be identified, with a dome light and consistent color."
Dodhy was encouraged that Saslaw and Marsden were listening to them.
"The bill has still got a ways to go," said Saslaw during the meeting's question-and-answer portion. "It's not over yet."
So far, the House of Delegates has passed Del. Tom Rust's (R-86) HB 1662 that opens the door for Uber and establishes licensing rules for "transportation network companies."
The Senate version, Sen. John Watkins' (R-10) SB 1025 has also passed, meaning each bill will cross over to the opposite house for consideration before a reconciled version goes to Governor Terry McAuliffe. Marsden was chief co-patron on the bill, though he also introduced his own version, SB 1102.
For West Springfield resident and taxicab driver Waqar Umer, he said Uber poses a threat to his livelihood. "Our wages have gone down, making it more difficult to pay insurance," he said.
In addition to Uber and other rideshare service, Umer came to the meeting with other concerns he's facing as a driver. "They can suspend my car, my license, but also my family's licenses for living at the same address. And Reagan National Airport has so many cabs, the parking lot is always full."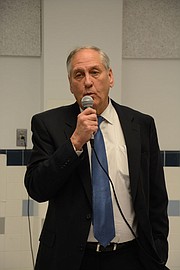 SASLAW AND MARSDEN used their presentation time in front of nearly 100 constituents to comment on legislation moving through the General Assembly.
Saslaw highlighted SB 1349 that effectively protects Dominion Power from rate reviews over a five-year period. "If this bill doesn't make it through," said Saslaw, "we could see a $50 to $70 increase per month."
In addition to road paving, equal rights and gun control, Saslaw also spoke on public schools. "We can't fund public schools now," he said. "The budget is back where it was in 2008. And there's a lot more students now. The tax structure can't support the state anymore."
Marsden spoke about allowing for the possession or distribution of marijuana for medical purposes such as treatment of epilepsy. On Tuesday Feb. 10, the House of Delegates passed a bill to that effect, HB 1445, introduced by Del. Dave Albo (R-42).
"I asked Dave [Albo], could you believe you would support anything that had cannabis written in it?" said Marsden. The similar senate bill 1235, of which Marsden is chief patron, would also allow for oil extracted from the cannabis plant to be used for reducing seizures in young patients.
"This is a minefield," Marsden added, "with the difference between state and federal law."
Marsden also highlighted his bill 1374 that deals with registration and information provided to sex offenders.
"The registry has 21,000 people on it in Virginia," he said, explaining that the 37 pages of Virginia Code outlining their dos and don'ts "reads like stereo instructions in Russian." Marsden's legislation would help make this information more accessible, but also hold offenders accountable, that not receiving the information can't be used as a defense for failing to register.
TO TRACK Sens. Saslaw and Marsden and their legislation at the General Assembly, visit www.virginiageneralassembly.gov. or email district37@senate.virginia.gov (Marsden) or district35@senate.virginia.gov (Saslaw).