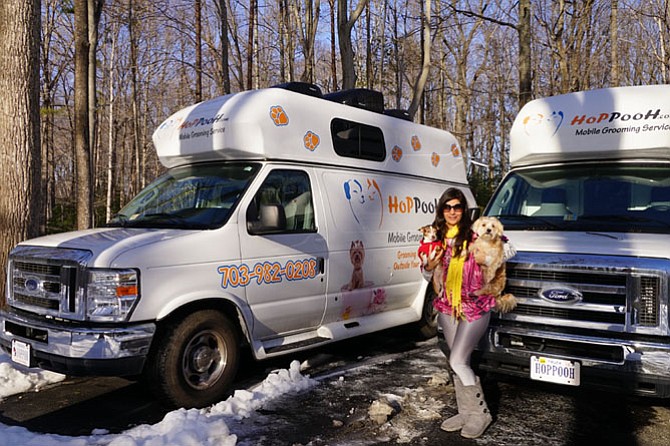 Marzi Sharifi started HoPPooH in Fairfax, a mobile pet grooming service, in 2013. With her two vans and groomer, Sara, HoPPooH—which means little dog or dog in Persian—will come to the pet owner's door to groom and style man's best friend…or his cat.
HoPPooH's area of coverage is between 10 to 12 miles of its base. Sharifi said that her business provides convenience for her and for her clients. "I can choose my clients, make my own hours."
She has learned a lot since she first started, such as accepting clients that are not more than 75 pounds. She once had a German shepherd in the van that started "growling and barking" at her. "It was very dangerous for me," she said. But her confidence has grown. "I'm really good at grooming dogs, especially poodles."
Sharifi, a Persian-American, has a background in videography. It was this background that got her started in pet grooming. As a volunteer at the Animal Welfare League of Arlington, Sharifi created a video about one of its dogs, Gaston, an American Pit Bull Terrier mix, for Best in Shelter's first virtual dog show. The video won first prize and $50,000 for AWLA.
"I have always loved animals," she said. To learn more about HoPPooH, go to http://www.hoppooh.com/.