Jacquie Barker saw the problem with the normal animal rescue cycle. Ideally, animal rescue starts with the rescue, followed by a period of sheltering, and finally, adoption. But often rescue organizations' efforts get stuck during the sheltering or fostering phase.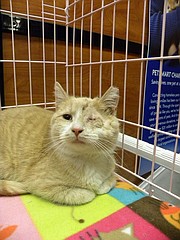 When shelters are full, they cannot take on new animals. That is where Pets Bring Joy, founded by Barker, comes in. "We break up the log jam…move inventory along," she said.
Pets Bring Joy finds foster homes for cats that shelters cannot accommodate, and it partners with PetSmart in East Fairfax in holding adoption events. The organization also provides promotion services and pays for veterinary expenses while a cat is being fostered.
Barker's organization focuses on older or injured cats, "Everybody wants to adopt kittens," she said, but older cats can be wonderful pets.
Barker works in partnership with Helping Homeless Felines, founded by Val Garcia. Garcia has been rescuing cats for 25 years. Her organization, which recently gained its tax exempt status, specializes in injured felines, like one-eyed Lennie and three-legged Simon.
On an average day of trapping, Garcia said that she brings in up to 10 cats. Donations to Helping Homeless Felines help pay for necessary and life-saving surgeries, greatly increasing an animal's chances for adoption. She is able to concentrate on finding and rescuing strays because Pets Bring Joy is there to find homes for them.
Pets Bring Joy and Helping Homeless Felines scour shelters, particularly those in rural areas, where opportunities for adoption may be scarce.
"We are always looking for foster homes," said volunteer Juli Verrier. For more information on these two organizations, go to www.petsbringjoy.org.