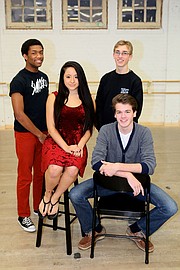 Students of the Metropolitan School of the Arts (MSA) of Alexandria and Lorton will debut their first, student-directed, produced performance on Fri., Jan., 16 at 7:30 p.m., Sat., Jan. 17 at 2 p.m. and 7:30 p.m. and Sun., Jan. 18 at 2 p.m. and 7:30 p.m. at The Atlas Performing Arts Theatre at 1333 H Street., NE, in Washington, D.C. Tickets are $15 per person and can be purchased online at www.metropolitanarts.org.
"The Last Five Years" is a live production of Jason Robert Brown's masterpiece,which was recently rated one of the top five musicals of this decade. It premiered at Chicago's Northlight Theatre in 2001 and was then produced Off-Broadway in March 2002. The story explores a five-year relationship between Jamie Wellerstein, a rising novelist, and Cathy Hyatt, a struggling actress.
This production is completely student run and performed by Metropolitan School of the Arts high school students studying to have careers in theatre. Chad Vann of Alexandria is the director, while Sam Cornbrooks of Springfield is the producer. Ben Cherington of Lorton and Kyra Smith of Alexandria are performers in the musical.
"We are so proud of our students' initiative and passion to take on the entire production of this show, with their talent and creativity," said Melissa Dobbs, founder and president of Metropolitan School of the Arts Alexandria and Lorton.
For more information, 703.339.0444 or visit www.metropolitanarts.org, Facebook or Twitter.