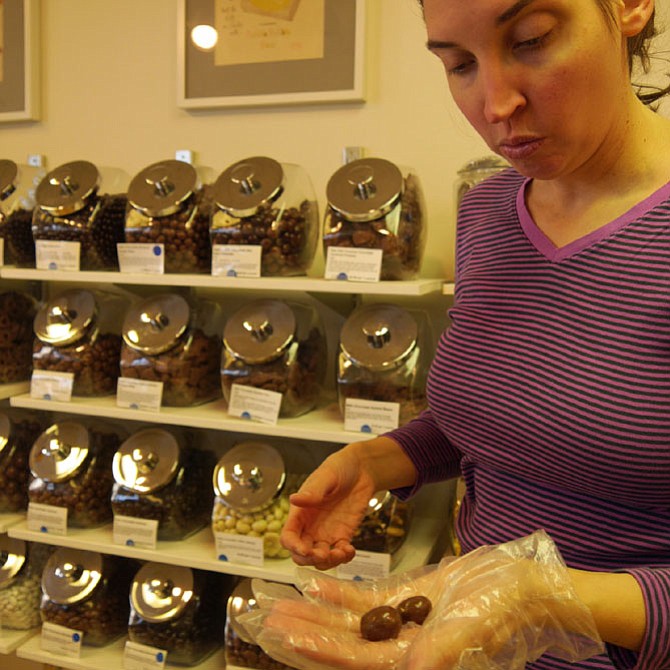 "Please pass the M&Ms," a small voice pipes up from his seat at the end of the table. He stares at his large white sugar cookie a moment before beginning his masterpiece. "M&Ms are new this year," says Alyssa Theodore, owner of The Sugar Cube on King Street in Alexandria. "I'm pretty sure they'll be the hit."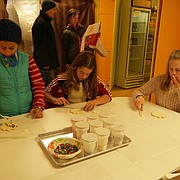 "We're having a contest," declares another member of the cookie decorating group who had come from Massachusetts to visit friends for the New Year's Eve First Night Alexandria Festivities. Their mother added, "This is our first stop and then we're headed to the scavenger hunt at the Torpedo Factory." Theodore is having a special cookie decorating event from 2-5 p.m. for children up to 15 years.
Theodore fills a box with chocolates from the glass case as a customer investigates the wall lined with large bars of candy with names like "The Wild Thing" 68 percent dark chocolate from the jungles of Bolivia or Etheral, 80 percent cacao with notes of vanilla, pineapple and honey or the Chuao maple bacon from San Diego.
"When I'm here alone I wait on customers," she says. But when I have help, I'm up front in the office taking inventory or doing paperwork."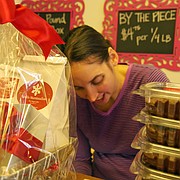 Theodore says when she has a few free hours she makes fudge and sea salt caramels, at least once a week during the year but sometimes every day during the holidays. "And because it is wintertime we make marshmallow chocolates. I should be making caramels right now except I'm out of butter."
Theodore reaches to the bottom shelf. "These," she says. "are two-inch peppermint patties from Philadelphia. We also drive to Philly to get our Easter eggs. And we had to get someone to travel to New York for our old-fashioned ribbon candy because it is too fragile to ship through the mail. It's ridiculous what we do."
She says she gets ideas for new and unusual candy by scouting out other stores or sometimes from her customers. "For instance, we have Kohler candies. You know the man who makes ...." She stops in mid-sentence. "Well, a customer told us about Mr Kohler who has a passion for chocolate and his toffee is delightful."
Her favorite kind of candy? "Well, you have to give me a category. I guess I would say I mostly snack on the dark chocolate almond caramel patties."
Most of the candy is from the United States including as far as Oregon where the LilleBelle Lavender sea salt caramels are made. But she points up a few stairs where gummy jars of all shapes and flavors circle a large table. "These Haribo 'pick n mix', as they call them, are from Sweden and have quite a following here." The jar labeled "tangy octopuses" is empty.
She points to several shelves of glass jars topped with silver lids. "All of these up here are pan chocolate tumbled in large drums with fine jets spraying the chocolate so there is an even coating all around the center. See the difference."
Theodore has owned The Sugar Cube for 8 years, 3 years at this location. Prior to this she spent a number of years as an editor in the trade press, then moved into the digital world where she edited rare religious tracts from the 16th-17th century. "I had a good intuitive feeling for corrupt Latin. But I wanted to start a business, and the idea appealed to me of working for myself." Theodore said her sister came up with the idea of candy because her sister had worked for a candy store in their small hometown of Milford, Pa. when she was going to school.
The first wave of children gathers up coats and gets ready to leave as more children stream in the door to take their place. Theodore has prepared for 100, having learned her lesson the first year when she was overwhelmed with more excited children than cookies to decorate. "Are you kidding?" one 10-year-old boy declares as he stuffs the last bite of cookie into his mouth, dripping crumbs on the table. "No carry home sack for me."