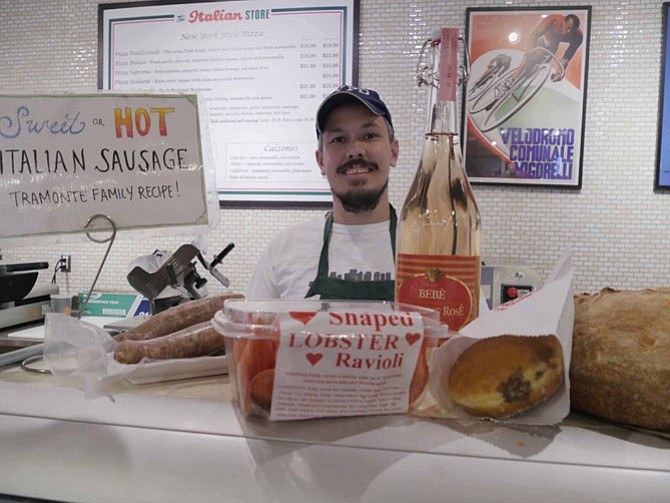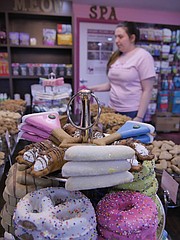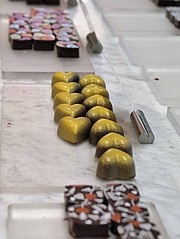 Romantic Dinner
Surprise your special someone with a romantic dinner at home. Step into The Italian Store and select from spinach-stuffed shells, meat cannelloni, or mushroom ravioli. Of course, a favorite this time of year is the pink heart-shaped ravioli. Michael Tramonte, the owner of the two Italian stores located at Lyons Village and Westover Center, says every Valentine's Day they have offered the heart-shaped cheese ravioli but last year decided to add lobster ravioli, too. It was a good seller so they brought it back again. He suggests pairing the lobster ravioli with Vodka sauce.
A good accompaniment to the cheese ravioli is the sweet Italian sausage made from the Tramonte family recipe. Tramonte says, "It is my dad's recipe from when he started the store back in 1980. We get a couple of hundred pounds made for us every week." He suggests a good wine to accompany the Valentine's Day dinner would be Bebè sparkling rosé.
For dessert Tramonte shows off his shiny new machine by filling a fresh beignet with a large squirt of fresh Nutella. Or you could try the toasted almond, tiramisu, or amaretto cherry gelato made by Gianluigi Dellaccio, the gelato ambassador to the U.S. Tramonte says, "I wanted to offer the same kind of Italian gelato that my kids always want to eat in the summer when we go to Italy."
Treat Four-Legged Loved Ones
Make everyone happy, including the dog, with a treat from Wolf Gang Bakery & Grooming at 4550 Lee Highway. Bring in your Irish setter for an organic donut with yogurt frosting. Your poodle will love the cheese and liver stars and your terrier might need a couple of whimzees, a vegetarian dental treat. But for Valentine's day, tuck in a few apple crunch hearts for your favorite mutt from the shelter.
Since dogs can be picky, Kelly Clements, a store employee, says your dog can taste a treat free to see if he likes it. She points to the peanut butter and carob. "It tastes literally like chocolate chip cookies but it's healthy." The all-natural dog bones are made at the home store bakery in Florida. Wolf Gang Bakery has been open six weeks but will have its official grand opening Feb. 11.
Sticking to Sweets
Want to be traditional this year? Stop by your neighborhood candy store owned by Jason Andelman for handcrafted candies in unusual flavors, each an artistic creation. Choose the special heart-shaped salted butter caramels for Valentine's Day or create your own one-or two- pound box with ancho chili, Tahitian vanilla bean, old fashioned, orange blossom honey, coconut rum or a caramel marshmallow bar or bittersweet bark with candied ginger.
A 10-year old regular customer (just because it's Saturday) points to the glass case and exclaims to her dad, "Look, cookies and cream. That's new. We have to try it."
Emily Anderson says, "It's one of the five flavors we introduced for Valentine's Day. We also have coffee and donuts which was my suggestion." She explains they had to test it three times because the ratio of chocolate to cream varies in different flavors and, "We had no idea how adding the glazed Krispy Kreme donuts would change the mix."
Since the small batch candies have real cream and local fresh ingredients, like mint, they have a shelf life of three weeks although the candy is guaranteed to disappear in a hurry. For a long distance valentine, order a surprise through the mail with a two-day delivery. Artisan Confections is located on Fillmore in Arlington with a second store in the Mosaic District in Fairfax.