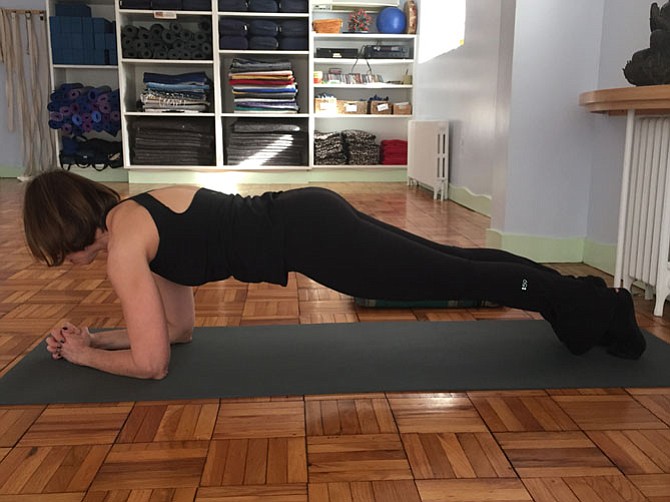 The beginning of a new year is often a time when many resolve to begin a fitness plan or to ramp up their current routine. Officials at the American College of Sports Medicine rang in the New Year by releasing the organization's annual survey of the top fitness trends for 2015.
From push-ups to plank, bodyweight training tops ACSM's list of fitness trends. Low cost and mobile, this routine takes exercise back to the basics: think pull-ups and squats. "You really don't need equipment or a gym membership, and there's almost no cost involved," said Katrina Salum, a personal trainer based in Arlington. "It's effective because you can build muscle and burn fat simply by using your own body weight for resistance."
The popularity of bodyweight moves are due to the ease in which they can be incorporated into your daily routine, said Salum. "You can do three sets of eight squats while you're brushing your teeth and 10 pushups while you're waiting for your coffee to brew."
THE PRACTICE of alternating intense periods of aerobic activity with low intensity exercises, known as high-intensity interval training (HIIT), is number two on the list of trends. Varying exercises can stave off boredom, a factor that leads many people to abandon their fitness practice," said Scott Goldberg, a personal trainer in Potomac, Md. "Most HIIT routines can be done in 30 minutes," he said. "One simple routine is warming up by walking on a treadmill, then doing 10 squats, 10 push ups and 10 planks followed by a 30-second fast-paced sprint. Then walk slowly in place for four minutes to rest then repeat the entire routine five times."
Taking classes or training sessions from licensed, certified and educated fitness professionals is number three on the list. Traditional weight training is number four, followed by enlisting the help of a personal trainer and combining exercise and nutrition into a fitness plan, which are numbers five and six respectively.
"To be healthy you need to exercise, but also eat foods that are good for you," said Gretchen Juliano, a dietitian in Old Town Alexandria. "Eating foods that are low in carbs and high in protein before working out forces your body to burn fat and gives you energy."
Fitness industry pros say yoga is number seven. "The practice of yoga gives you muscular flexibility through the stretching involved in the yoga poses," said Dawn Curtis, East Meets West Yoga Center in Vienna. "Yoga also provides immune strengthening. A regular yoga practice will also help with your healthy tissue maintenance and healthy growth of new muscles, bones, tendons, and ligaments, which are essential body components for fighting disease."

Curtis points to the detoxifying effects of yoga.
"A regular yoga practice will increase your blood circulation, which in turn helps flush out toxins from your body," she said. "As your body flushes out these toxins, to be released by the stretches of the muscle movement, they are replaced with new nourishing nutrients for a healthier body and mind … Students with a regular practice … report [having] long lasting results both physically and mentally, especially with reducing stress."
A commitment of practicing two to three times each week is necessary for noticeable results.
"Consistency is the key in yoga," said Sara VanderGoot of Mind the Mat Yoga and Pilates in Arlington and Alexandria. "It is like vitamins. The real effect is doing it over time, and incorporating it into your life rather than just doing it once. Yoga is not a quick fix, but a very powerful transformative practice if done regularly over time."

Fitness programs for seniors make the list at number eight. "Even 30-minutes of strength training and 20 minutes of aerobics 2 or 4 times a week can help us fight diseases like diabetes and heart disease as we age," said Goldberg.
FUNCTIONAL FITNESS EXERCISES, those that make your body stronger for everyday activities like doing laundry, lifting small children or simply using good posture when sitting at a desk, come in at number nine on the ACSM list while group personal training sessions are number ten.
"One of the benefits of working out with a group is accountability," said Salum. "It's also less expensive than hiring a personal training and can be more fun."