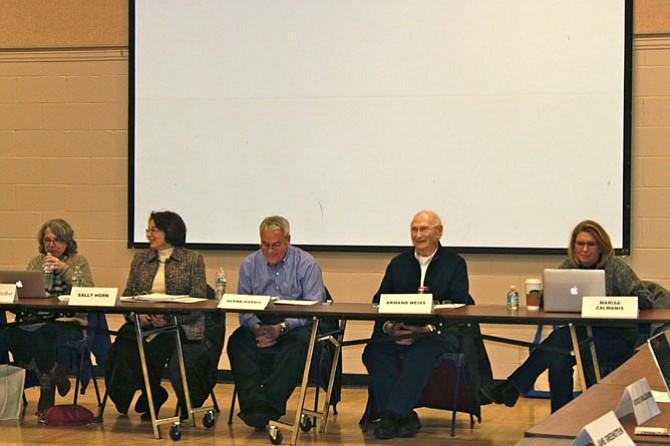 McLean Citizens Association (MCA) wants the county School Board to add community members to the audit committee.
MCA voted on a resolution Jan. 7- stemming on a resolution made by Fairfax County Public School board members recently - to make changes to the audit committee by July 1.
Louise Epstein, MCA Education and Youth committee vice chairperson, said the resolution is based off of one passed in 2012. The School Board recently passed a resolution promising an Auditor General and two additional community members to be added to the audit committee, but so far, those positions have not been filled.
"The actual process of choosing that Auditor General seems to be moving very slowly," said Epstein.
She said that after the resolution passed late last year, it was met with resistance by two School Board members - who she did not name - and disappeared.
The resolution MCA passed unanimously asks the School Board to choose two community members for the committee as well as remove the three non-voting members of the team, which includes FCPS Superintendent Dr. Karen Garza, by the final date of the school's fiscal year.
"It is not considered a norm and is not a part of corporate practice," said Epstein.
Second Vice President Armand Weiss said the audit committee currently does not meet the national standards.
"If the county did not follow the procedures, we'd be all over the Board of Supervisors," said board member Rob Jackson. "How do you tout the standards? If you say you cannot have staff on the committee, that is a national standard."
Board member Jim Turner wanted to know whether there was a position in the audit committee that tells the School Board about better programs and best practices from around the country. When told no, he asked if the MCA could ask the school board to create a separate committee to do so.
Others asked whether they should ask for an external consultant to scout out better programs.
"We have so many programs," said Epstein. "We have 500 pages of programs in the budget."
She said that adding another committee with FCPS under such tight budget constraints could mean cutting another program out.
"External consulting costs a lot of money compared to internal auditors," said Epstein.
MCA President Sally Horn said adding an amendment for an external auditor may lead to the School Board not looking at their resolution due to budget constraints.