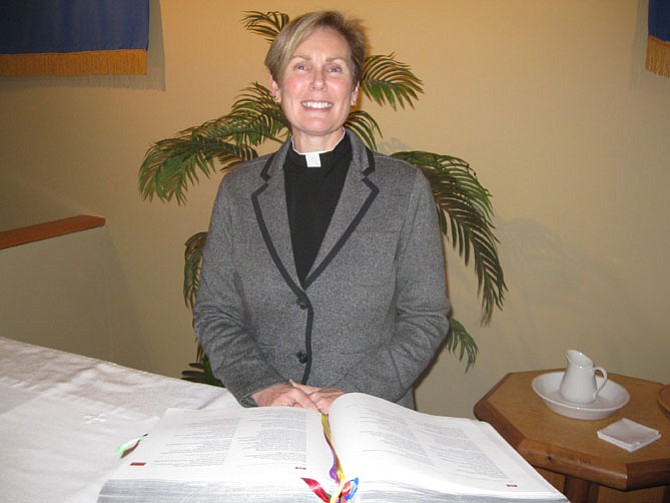 Lynn Miller, 51, of Chantilly is the new senior pastor of King of Kings Lutheran Church, a congregation with 220 worshipping members off Route 50 in Chantilly.
Miller was a parish pastor for 20 years with three calls in Pennsylvania and one call in North Carolina. For the past four and a half years, she was assistant to the bishop in the Allegheny Synod of the Evangelical Lutheran Church of America.
Her goal is to continue the current outreach ministries by living faithfully and serving others. "My hope would be to continue to expand the ministries we have here," she said. Those include a preschool with 81 children, which has a ministry for children with special needs. "We're finding our outreach to children with special needs is where we have a unique opportunity. The congregational members are very accepting and welcoming to those families," she said.
"We already have a special needs worship service once a month, for families with children with special needs. My hope is we can add a healing service once a month as well," she said.
With their special needs Bible School, which started with one session, it was able to expand to a morning and evening session. "Little by little we are able to expand our ministries to help meet needs in the community," she said.
The congregation, which recently celebrated its 42nd anniversary, has a diversity of people of all different ages. The parishioners come from a variety of backgrounds — Indian, Asian, Hispanic and African American. "That's been one of the joys for me — to have folks of various ethnic traditions," she said.
She added: "We try to welcome all ages. We try to be a welcoming congregation through our Bible School. There's a waiting list. "
With an $800,000 per year operating budget, King of Kings consists of a worship center, classroom and administrative building, a dedicated preschool with its own building, and a playground. The preschool for ages 2 1/2 to 4 years operates five days a week, for a half day.
Miller, who started in November, said she has a big heart for the youth and helping them to have a strong faith foundation. "I'm very committed to faith formation for our children," said Miller, who also teaches Sunday School and Bible studies. The church also offers extra classes for Bible study and current issues about church and culture.
Having served in a variety of congregational settings and coming out of the Bishop's office, Miller brings top administrative skills that provide organization to the mission. She said the acronym PIGS SEW, which stands for Prayer, Inviting, Giving, Study, Service, Encouraging, and Worship, is a guiding principle in her ministry. "That we can all go deeper in our spirituality through those faith practices," she said. "And become closer to God."
As far as teaching and preaching, she tries to stay relevant with current issues happening in the world, and connecting scripture so that preaching is relevant to people's lives. "In our tradition, it's more to help people discern the scriptures and where God is leading us for engagement with the world — to share love and compassion rather than judgment."
Miller said besides building relationships, she loves helping to move the church forward in its mission. "Recognizing that the culture has changed and the church needs to be willing to adapt and change as well," she said. "The Gospel doesn't change, the good news of Jesus Christ doesn't change. But how we engage with the community changes as the needs change."
She added: "I think I have a pastor's heart, which leads me to care for people in their joys and their sorrows — in the midst of hospital visiting, in visiting with families that are struggling, to bring the gift of peace and hope — that they're not alone in their struggles or their walks."
"Pastor Lynn brings not only wisdom and experience, but passion and joy to her ministry. She is creative, genuine and compassionate. She has a gift for teaching and leading that will guide us as we seek to live out our mission … Following Christ, living faithfully and serving others," said congregant Susan Feldhausen.
"Pastor Miller has been blessed with a very warm and welcoming personality and a high energy level, which are very important attributes for a pastor. In the short time Pastor Miller has been here, she has demonstrated how this allows her to interact very easily with all ages of our congregation," said Jim Nelson, a member of the church.
He added: "Her passion for the scripture allows her to bring God's word and teachings to our congregation on a daily basis through her ministry, and her Synod experience and administrative skills allow her to fill the role of the only pastor of King of Kings in a very effective manner."
King of Kings also houses people who are homeless through the Fairfax County Hypothermia Shelter. "The homeless population has a place to go, and from week to week, they move from church to church," said Miller. "We provide them with shelter and food, breakfast and a bagged lunch for one week in January."
The church holds Sunday School at 9 a.m. for all ages, including children with special needs. Sunday worship is at 10 a.m. with weekly Holy Communion. They are looking at holding additional worship services, including the addition of a healing service once a month. The Korean Church meets there Sundays at 1 p.m. with a Korean Bible Study on Wednesdays at 7 p.m.
"To be able to share space like that is very encouraging and it's living out our mission of serving others and providing a welcoming place," she said of sharing space with the Koreans.
Originally from the Philadelphia area of Pennsylvania, Miller attended Penn State University where she earned a degree in environmental science in 1985. From there, she graduated from Gettysburg Seminary with a Master's of Divinity in 1989. She just celebrated her 25th anniversary in ministry.
Miller is married to husband Michael, a retired financial specialist, and the couple has one daughter, Kathryn, 22, who works in the District.