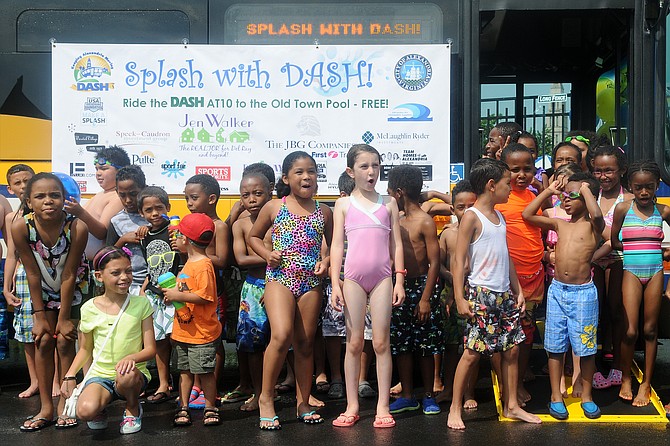 The Alexandria Transit Company (DASH), in partnership with the Advocates for Alexandria Aquatics, and the City of Alexandria Department of Recreation, Parks, and Cultural Activities, revealed a new initiative to get families and children to the Old Town Pool this summer. More than 20 local businesses, along with the support of the USA Swimming Foundation – Make a Splash, are sponsoring free rides during July and August on DASH's AT10 route. This route provides service between Potomac Yard and the King Street Metro, via the neighborhoods of Arlandria, Warwick Village, Del Ray, and Rosemont. With the Warwick Pool temporarily closed this summer, children and their families would have had a difficult time getting to the Old Town Pool on Cameron Street.
Now through Sept. 7, the AT10 route will become the free Pool Bus on weekdays between 9:30 a.m. and 3:30 p.m., and on weekends between 11 a.m. and 7 p.m.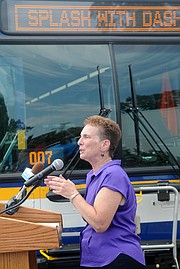 "The participating business sponsors signed up almost as soon as they were informed about this effort," said DASH CEO Sandy Modell. "Alexandria's business community is very generous. They wanted to help and thought this was a great idea."
Business sponsors include High Dive Sponsors: Jen Walker Team – McEnearney Associates, Inc. and The JBG Companies. Kiddie Pool Sponsors: Advocates for Alexandria Aquatics; First Transit, Inc.; Bobi Bomar – The Homes of Alexandria; Del Ray Business Community; McLaughlin Ryder Investments; Speck – Caudron Investment Group of Wells Fargo Advisors and the Warwick Village Citizens Association. Wading Pool Sponsors: Pulte Homes; Sports Authority – Potomac Yard; The Liz Luke Team; Sport Fair, Inc.; Yates Automotive Group; Yates Dry Cleaners; and Wes Greenway's Alexandria VW.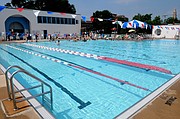 Other in-kind and business contributions were from Alexandria Hyundai, The Zebra Press, The Alexandria Gazette Packet, The Alexandria Times, Hooray for Books, and Giant Food on Duke Street.