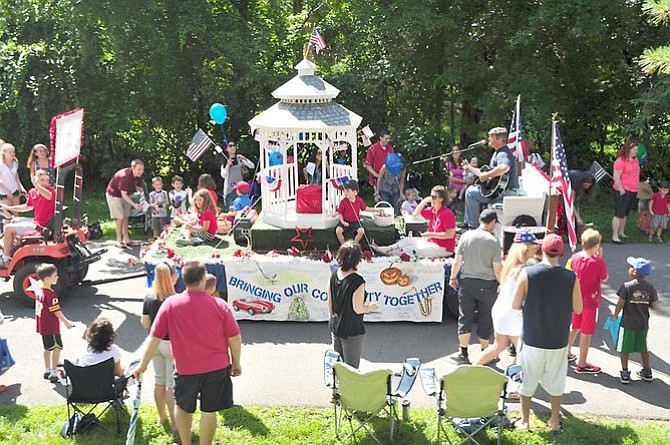 Friday/July 3
Independence Day Fireworks & Concerts. 5:30 p.m. Workhouse Arts Center, 9518 Workhouse Way, Lorton. This year's event features "The Sixth Generation;" fireworks by Master Displays; games and children's activities; a variety of food trucks and beer and wine garden; and extended evening gallery hours."The Sixth Generation" is an authentic 1960s rock band that never fails to delight audiences with their family-friendly, fun and upbeat performances. They were officially inducted into the Michigan Rock and Roll Legends Hall of Fame in 2011.
MOVE featuring Derek & Julianne Hough. 8 p.m. Wolf Trap, 1645 Trap Road. Join the Dancing with the Stars champion duo as they and featured performers sing and dance. Tickets: $25-$55. wolftrap.org.
Youth Jazz Concert. 8-9:30 p.m. Little River United Church of Christ, 8410 Little River Turnpike, Annandale. Virginia Music Adventures, Inc. (VMA) and the Little River United Church of Christ present a free performance by the Monterey County All-Star Band and Vocal Jazz Ensemble. The concert will showcase the veritable talent of these Monterey-based high school honor ensembles, which are sponsored by the nationally acclaimed Monterey Jazz Festival and have obtained worldwide recognition and rave reviews for their performances.
Friday Evening Garden Tour. 7-8 p.m. Green Spring Gardens, 4603 Green Spring Road, Alexandria. View Green Spring's demonstration gardens in a different light. Master Gardener docents highlight the summer sights, fragrances and sounds at the end of the day, when changing light accentuates different plants and landscape features. $12/person for each tour. www.fairfaxcounty.gov/parks/greenspring
Kingstowne Farmers Market. 4-7 p.m. Fridays, May 1-Oct. 30. Giant Parking Lot, 5955 Kingstowne Towne Center, Alexandria. Vendors products include fresh organic honey and hand held pies and rolls.www.fairfaxcounty.gov/parks/farmersmarkets/kingstownemkt.htm
Friday-Sunday/July 3-5
World Police & Fire Games. Thousands of athletes from 70 countries will converge in Fairfax County for 10 days of competitions. Entertainment and activities will be hosted by Reston Town Center during the games. Fairfax2015.com
Saturday/July 4
Vienna 4th of July Festival and Fireworks Show. 12-9 p.m. Vienna Town Green, 144 Maple Avenue, East, Vienna. Free event with food and drink, music, family games, children's entertainment and more. Fireworks show begins at 9:15 p.m. http://www.vienna...">http://www.vienna...
McLean 4th of July Fireworks Celebration. 8 p.m. Cooper Middle School, 977 Balls Hill Road, McLean. Food and music. Shuttle buses will be available at St. John's Episcopal Church at the McLean Community Center. http://www.mclean...">http://www.mclean...
Great Falls 4th of July Celebration & Parade. 8 a.m. - 6 p.m. Village Centre Green, 776 Walker Road, Great Falls. 5K walk/run, blood drive, Little Patriot Parade, and floats, horses, antique cars and pets making a loop in the Main Parade. Fireworks start after dusk at Turner Farm Park. http://www.celebr...">http://www.celebr....
In the Lobby Bar: Independence Day Dance Party. 10 p.m. Jammin' Java, 227 Maple Avenue, East, Vienna. Featuring Pat Jones, DJ Madmen Z and Irresponsible. http://jamminjava...">http://jamminjava...
Herndon 4th of July Celebration. 6:30 p.m. Bready Park, Herndon Community Center, 814 Ferndale Avenue, Herndon. A family-fun event featuring games, arts and craft activities, bingo, food face painting, balloon artists, and fireworks. Fireworks show is choreographed to music and begins at dark, approximately 9:30 p.m. http://www.herndo...">www.herndon-va.gov.
Lake Fairfax Fireworks Spectacular. 4-8 p.m. Lake Fairfax, 1400 Lake Fairfax Drive, Reston. Live music, enjoy the Water Mine park and more. http://www.fairfa...">http://www.fairfa...
Firecracker 5K for the Troops. 8 a.m. Reston Town Center, 11900 Market Street, Reston. A 3.1 mile race, live music, face painting, waving flags, and free massages. http://prraces.co...">prraces.com/firec...
Historic Pohick Church 4th of July Tours. 1-3 p.m. Pohick Church, 9301 Richmond Highway, Lorton. Costumed history docents will give free guided tours of the historic colonial church. http://www.pohick...">http://www.pohick...
July 4th in Paradise. 11 a.m.-7 p.m. Paradise Springs Winery, 13219 Yates Ford Road, Clifton. Open for normal business hours with live music and food available throughout the day. http://www.paradi...">http://www.paradi...
Fairfax's Independence Day Celebration & Fireworks. 10 a.m.-10:30 p.m. in the Downtown Fairfax Historic District. Independence day parade, historical tours, games, entertainment and fireworks begins at 7 p.m. http://www.fairfa...">www.fairfaxva.gov.
Mount Vernon's An American Celebration. 8 a.m.-5 p.m. George Washington's Mount Vernon, 3200 Mount Vernon Memorial Highway, Mount Vernon. Daytime fireworks in patriotic colors fired over the Potomac River at 1 p.m. The event also includes an inspirational naturalization ceremony for 100 new citizens, military re-enactments, a special wreath-laying ceremony, free birthday cake for all and a visit from the "first" first couple, "General and Mrs. Washington." http://www.mountv...">www.mountvernon.org.
Sunday/July 5
The Ebony Hillbillies. 5 p.m. The Alden, 1234 Ingleside Avenue, McLean. This African-American string band from New York City specializes in a rootsy sound that originated in the 1920s and '30s, but still carries echoes of country, blues, jazz and R&B.
Wagon Ride to Poohsticks Bridge. 11 a.m. - noon. Riverbend Park, 8700 Potomac Hills Street, Great Falls. Listen to Winnie the Pooh's story and play Poohsticks on the bridge. Cost is $5 per person. Children must be accompanied by a registered adult. For more information, call 703-759-9018.
Grinding the Grain. 12-3 p.m. Colvin Run Mill, 10017 Colvin Run Road, Great Falls. Grain grinding demonstration is $7 for adults, $5 for children and seniors, $6 for students 16 plus with ID. There's a Blacksmith demonstration from 11 a.m. until 4 p.m. and free woodcarving lessons from the Northern Virginia Carvers for ages 12 and up. Lessons are free. Nominal charge for wood blanks.
Stars on Sunday Concert Series: Just Wingin' It Bluegrass Band. 3 p.m. Workhouse Arts Center, 9518 Workhouse Way, Lorton. Featuring a lineup of performances that showcase the diversity of talent and culture in Northern Virginia. Concerts are free to attend and are perfect for families, a special date or a relaxing afternoon of music and dance.
Workhouse Farmers Market. 1-5 p.m., at the Workhouse, 9601 Ox Road, Lorton. Every Sunday on the quad is a producer-only market for discerning shoppers featuring locally grown fruits and vegetables, locally raised meats and poultry and local foods from breads to salsas and sausages. http://www.workhousearts.org. Runs through Sept. 13.
Lorton Farmers Market. 9 a.m.-1 p.m. Sundays, May 3-Nov. 8. Featuring fresh produce, a Swiss bakery and potted plants and herbs. VRE Parking Lot, 8990 Lorton Station Boulevard, Lorton. www.fairfaxcounty.gov/parks/farmersmarkets/lortonmkt.htm
Fairfax Farmers Market. 10 a.m.-2 p.m. Sundays, May 10-Oct. 25. 10500 Page Avenue, Fairfax. www.fairfaxsaturdaymarket.com/
Fair Lakes Farmers Market. 9 a.m.-1 p.m. 4501 Market Commons Drive, Fairfax. www.greentowns.com/initiative/farmers-market/fair-lakes-farmers-market-fairfax-va.