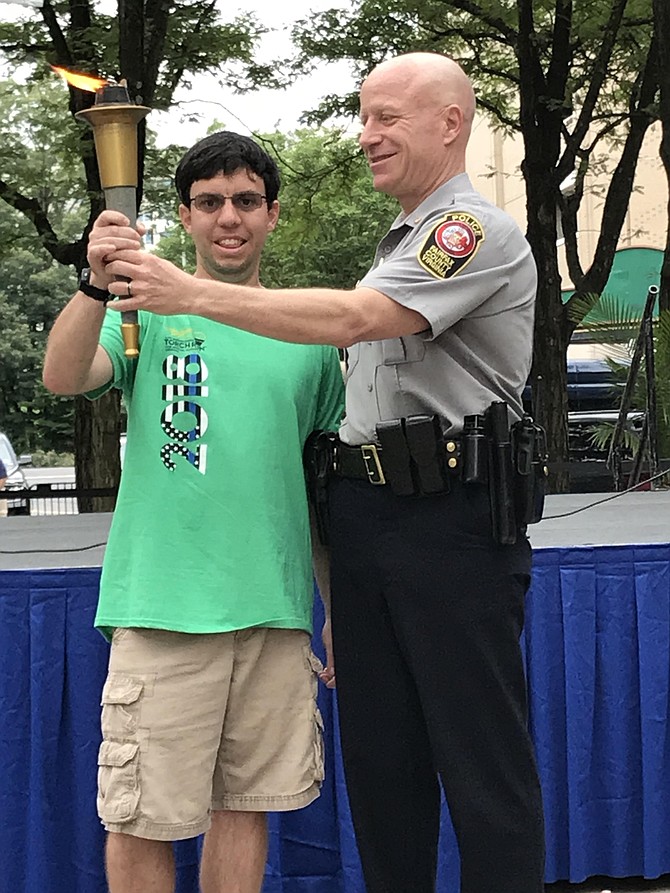 Special Olympics Athlete Oath: "Let me win. But if I cannot win, let me be brave in the attempt."
Officers from Fairfax County Police Department came out in full force Saturday morning, July 21 to support the inaugural Law Enforcement Torch Run for Special Olympics Virginia at Reston Town Center. Law enforcement agencies are among the largest supporters of Special Olympics, and the Fairfax County Police Department proved to be no exception.
The grassroots event is more than a run. Funds raised help the organization fulfill its mission to change attitudes toward people with intellectual disabilities and provide year-round sports training, competition, leadership opportunities, and health services to more than 21,000 athletes in Virginia of all abilities.
Ellen Head, Senior Director of Development for Special Olympics Virginia was on hand at Saturday's Torch Run. In an interview, Head told how 100 percent of the proceeds from this event would go to support Special Olympics Virginia. Although Special Olympics is one of the top three recognized brands, Head stated, "People have no clue Special Olympics is not a one-day event, and it is not just for kids.
"There is some sport going on nearly every day, and we have tons of different sports," said Head. "Powerlifting, soccer, swimming, basketball, even sailing. The events give our athletes a place to compete. It's about social engagement and the building of self-confidence which transcends other aspects of their lives." Special Olympics provides opportunities, removes isolation and improves health, skills and abilities.
Head pointed out that anyone who participates in the Special Olympics is an athlete, and most of the athletes are not children but adults over the age of twenty-two.
Colonel Edwin C. Roessler Jr., Chief of Police Fairfax County mingled with the athletes and their families at the Reston Pavilion before the start of the 1.43-mile run. Roessler was recently named Chair for Virginia Special Olympics Law Enforcement 2018-2019. "We are proud to support our Special Olympic athletes in Fairfax and throughout the Commonwealth of Virginia," Roessler said. "The funds raised directly provide wellness care to all and this is a global effect."
The athletes are the soul of Special Olympics. Ricky Portillo of Fairfax stood ready to participate in the inaugural torch run. Wearing an athlete's green t-shirt, Portillo shook hands with Roessler Jr., and got a photo with him.
Like many Special Olympics athletes, Portillo competes in several sports year-round and has done so year after year. "Ricky does everything," said his mother, Miriam Portillo. "He plays golf, baseball, skis, kayaks and more."
Head told the crowd that not only was today the Law Enforcement Torch Run but it was the 50th Anniversary of Special Olympics. Head shared there was a new movement at Special Olympics, an "Inclusion Revolution." The organization's website describes its renewed purpose to "End Discrimination Against People with Intellectual Disabilities and Create Inclusive Communities … Special Olympics is moving from an organization for people with intellectual disabilities to a social inclusion movement led by Special Olympics athletes."
Joey Wheeler of Lorton was the Athlete Speaker for the torch run. Wheeler led the crowd in the Special Olympics Athlete Oath. "Let me win. But if I cannot win, let me be brave in the attempt."
With that said, Wheeler stepped off the stage with the torch to lead his fellow athletes, Fairfax police, family and friends in the inaugural Law Enforcement Torch Run for Special Olympics Virginia.
For more information on how to get involved with Special Olympics Virginia, visit www.specialolympicsva.org or call 800-932-4653.