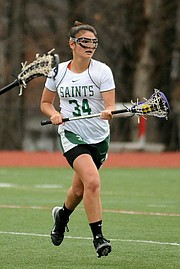 Ellie Majure was a standout performer for one of the best girls' lacrosse programs in the country.
A four-year member of the St. Stephen's & St. Agnes varsity, Majure helped the Saints to a 28-1 record and an ISL AA championship during her senior season, scoring 95 goals and distributing 19 assists.
Majure, who also played field hockey for the Saints, was named an Under Armour and US Lacrosse All-America and will continue her lacrosse career at Duke University.
On July 3, Majure, a 2015 SSSAS graduate, played in the Under Armour All-America Game at Towson University, helping the South team to a 14-12 victory.
Majure recently participated in a Q&A via email with the Gazette Packet.
Gazette: You'll be playing lacrosse at Duke University next season. What made Duke the right choice for you?
Majure: Duke had everything I was looking for — a great lacrosse program and great academics. I loved the personality of the team, and when I walked around campus, I could really see myself there.
Gazette: What position(s) will you play?
Majure: We're not sure yet. It all depends on where I fit in with the team.
Gazette: What are you most looking forward to about going to college?
Majure: Duke basketball.
Gazette: At what age did you start playing lacrosse?
Majure: 10 — it was the summer going into fifth grade.
Gazette: When did you realize playing college lacrosse was an option for you?
Majure: The summer after seventh grade, I was playing in the U15 national tournament in Florida. That was the first time any coach had ever watched one of our games, and when I started receiving flyers from her school a week later, I realized that college lacrosse might be a possibility.
Gazette: How was the experience of playing in the Under Armour All-America game?
Majure: It was so much fun. I met a lot of new people and got to play with a whole team of incredibly talented players.
Gazette: The St. Stephen's & St. Agnes girls' lacrosse program is one of the nation's best. In your opinion, what makes the Saints such a consistently strong team?
Majure: It's a combination of coaching and girls willing to sacrifice to be a part of the tradition.
Gazette: What is your favorite memory of playing lacrosse at St. Stephen's?
Majure: There are too many great memories to choose one. But I'll never forget Coach [Kathy] Jenkins's 600th win and all the games I played against some of my best friends.
Gazette: Do you have any game day superstitions?
Majure: No superstitions, but my mom makes me a PB&J cut into a star on game days.
Gazette: What do you like to do when you're not playing a sport?
Majure: I like to read, bake, and work on art projects.
Gazette: Are you a pro sports fan? Which team(s) do you root for?
Majure: Not really. I think college sports are much more interesting.
Gazette: What location is the farthest you've traveled from the Washington, D.C metro area?
Majure: San Diego.
Gazette: What's your favorite food?
Majure: Macaroni and cheese — hands down.
Gazette: Who is your favorite music artist? Why?
Majure: Beyoncé, because she's awesome.
Gazette: What is your favorite movie? Why?
Majure: 'The Lion King' — the soundtrack is killer.