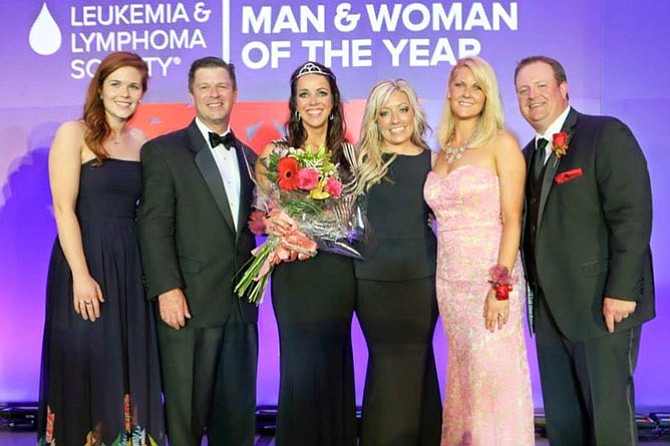 Katie Simmons Hickey's daughter Rylie, 3, delivered the knockout punch in Hickey's fundraising film for the Leukemia and Lymphoma Society.
"She's going to teach the world to beat cancer," said Rylie of her mom.
The Leukemia and Lymphoma Society honored Great Falls resident and Langley alumna Hickey as this year's Woman of the Year.
Hickey called her family and friends who helped her organize her 10 week campaign "The Knockouts."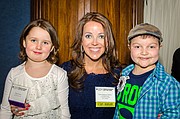 "It's incredibly heartwarming to have your community back you the entire way," said Hickey, in an interview at Katie's Coffee House.
Hickey raised $277,000 for the Leukemia and Lymphoma Society by organizing 17 events this year, including events at The Old Brogue, Riverbend Park, a Grandmother's and Mother's Day Tea and Fashion Show at River Bend Country Club, a denim and diamonds wine tasting and auction at a residence in Great Falls, and a Great Falls Concert on the Green.
"It was a second, full time job, no joke," she said.
HICKEY GOT INVOLVED because her best friend Colleen Shea was impacted by blood cancer. "Colleen's fight inspired me to begin supporting LLS through Team in Training triathlons, Light The Night Walk, Leukemia Cup Poker Runs, and other local events," she said.
Shea is now 14 years in remission.
Hickey, vice president of The Simmons Team at George Mason Mortgage, said she decided to fully immerse herself in raising awareness and money after a personal tragedy last October.
"I knew the time had come to re-channel all those negative vibes into something positive, worthwhile and significant," she said.
"The public awareness we spread and the number of people I met whose lives have been affected by cancer, including our Boy and Girl of the Year, was both overwhelming and inspiring," she said.
The Leukemia and Lymphoma Society was founded in 1949 and has 59 chapters in the United States and Canada. The organization funds lifesaving blood cancer research around the world and provides information and support services regarding leukemia, lymphoma, Hodgkin's disease and myeloma.
Hickey and Kevin Rohalmin, CEO of Presidential Detailing, led 22 candidates who collectively raised $1.81 million for the National Capital Area Chapter, a new record.
The Man and the Woman of the Year campaign is a fundraising competition in communities across the United States to raise money for cancer research in honor of local children who are blood cancer survivors.
Visit www.lls.org or call the Information Resource Center at 800-955-4572.
"I am honored to be tied to LLS for the rest of my life," said Hickey.
OUT OF 900 CANDIDATES across the country, Hickey learned she was named this year's National Woman of the Year runner up on July 7.
Her family, friends, and other attendees gave her a standing ovation last weekend when she was named Woman of the Year for the National Capital Area.
She looks forward next year to help others develop their own campaigns next year.
"Over the years, people like us have been responsible for funding medical advances that have doubled, tripled and even quadrupled the survival rates of many types of cancer," she said. "There's no reason to stop until we find a cure," she said.
For more information visit www.letsknockitout.com/