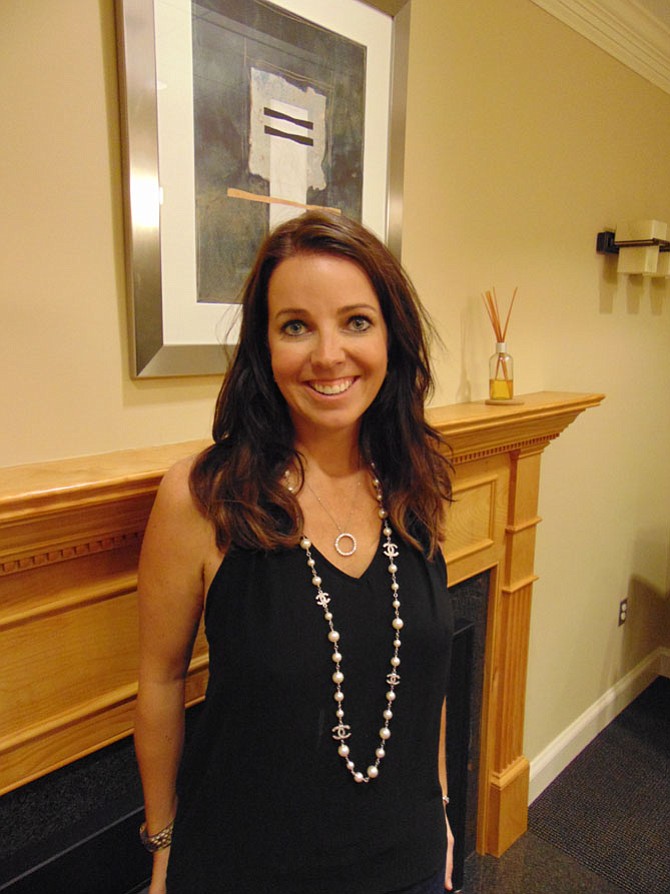 Great Falls — Katie Simmons Hickey, age 35, of Great Falls works on the retail side of mortgage banking with The Simmons Team with her sister Lindsay at their office in the Village Green. With a passion to help raise funds for cancer research, she hosted 14 events, raising $277,000 in 10 weeks during her reign as Woman of the Year for the Leukemia and Lymphoma Society (LLS) in 2015.
The Man and Woman of the Year campaign is a national fundraising competition in which participants build fundraising teams to raise funds for LLS blood cancer research in honor of local children who are blood cancer survivors, the Boy and Girl of the Year.
"There were 27 candidates and I was the woman who raised the most money in this area and the first runner up in the country," she said. "The campaign was monitored over 10 weeks so we knew exactly how much we raised. It's just a fun and exciting time and a great thing to do."
She added: "Now I'm on the leadership team looking for candidates for 2017 Man and Woman of the Year competition; it's a 10-week campaign and competition to raise the most money. It's going to kick off in March 2017, with the Grand Finale on June 3." The candidate from either Great Falls or McLean must be committed to raising the minimum of $20,000 in 10 weeks for LLS.
"My definition of success is achieving goals that are completely ridiculous -- doing things that no one else has done or would dream of doing.... Just finding the opportunity, and how we can give back. I'm in it until we can find a cure," she said.
As far as her fundraising goal, she said:

"My goal for every year that I continue to stay on the leadership team is $2.5 million dollars in 10 weeks, March 23 thru June 23," Hickey said.
"My goal for every year that I continue to stay on the leadership team is $2.5 million dollars in 10 weeks, March 23 thru June 23," she said. "There will be 25-30 male and female candidates."
On Thursday, Oct. 6, the Dolce Vida Salon and Spa on Elm Street in McLean, did a hair and fashion show at the Ritz Carlton in Tysons Corner that raised $11,000 for cancer research. "We had a silent auction and live auction, and about 100 people attended."
"I did it to raise money for my goal and teamed up with them in hopes of finding a candidate to mentor this year," she said. The money will be going to the Leukemia and Lymphoma Society's Circle of Hope.
After that experience, she's looking for qualified candidates that she can mentor now for 2017 so that she can break some records. "My goal is to continue to mentor people. We are actively looking for candidates to kick off the campaign in 2017," she said. "I want to get candidates -- whether male or female -- to represent Great Falls.
"My personal goal is to set a leadership team record with dollars raised, and the most rewarding result of these campaigns is the research grants that you earn with the name of your choice," she said.
One of her research grants in 2015 was named for Elizabeth Ellickson, who died in 2007 of leukemia at age 14. Her mother Carol is a real estate agent in Great Falls. "I raised $277,000, and for every $50,000 raised, you could get a research grant," she said. "After I raised the money, I got to raise three grants, and she was one of the girls that I chose to raise it for."
The reason she's so passionate about helping is because her husband Brendan's father Marty passed away from cancer and she was looking for something to preoccupy her mind. Her best friend also had lymphoma, but is in remission now and recently bought a house in Great Falls. She started by raising a little money -- $100 here and there -- but really got the fever when she became Woman of the Year.
Katie is married to husband Brendan; the couple has two children: Rylie, age 6, and Blake, age 4. If you are interested in becoming Man or Woman of the Year for the Leukemia and Lymphoma Society, email KatieSimmonsHickey@gmail.com to set up a meeting. For more details, visit the website at: www.mwoy.org.