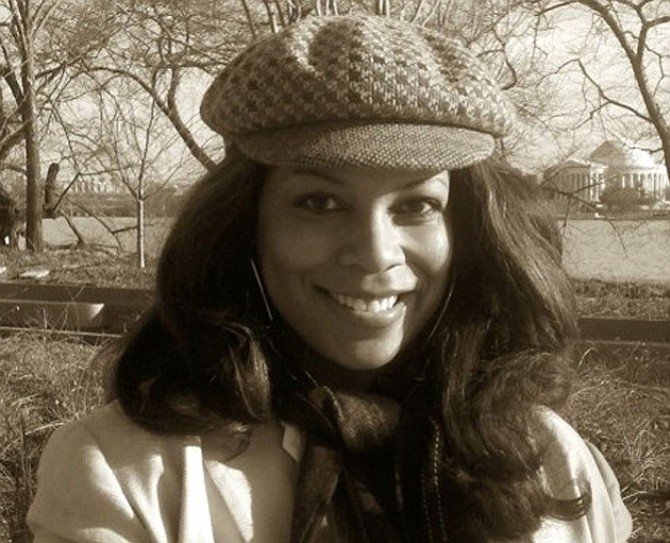 Sydney-Chanele Dawkins, an award-winning filmmaker, film festival producer and former chair of the Alexandria Commission for the Arts, died July 8 at her home in Alexandria of complications from breast cancer. She was 47 years old.
"There are no words to describe the loss of Sydney-Chanele to her family, friends and the arts community," said MetroStage Producing Artistic Director Carolyn Griffin. "She was one of the most vibrant, exciting, committed artists I have ever known. And the most kind and generous to friends and artists alike."
Never known to be without her trademark hat and smile, Dawkins was a champion of local female playwrights and artists and showcased them in her columns The Playwright's Playground and Cinema Speaks With Sydney-Chanele for the DC Metro Theater Arts website.
"Female theatre artists make up more than 50 percent of those involved in the theatre, yet the number of female playwrights being produced is dramatically lower," Dawkins said when she debuted her column. "I want to introduce DCMTA readers to the many talented playwrights in the area to learn about their writing process, their inspirations and their motivations."
A former chair of the Alexandria Film Festival, Dawkins premiered her first film, "Modern Love is Automatic," at SXSW in Austin, Texas. She recently completed her third film, the animated "The Wonderful Woes of Marsh." In 2013, Dawkins produced the box office hit Neil Simon's "Rumors" for the McLean Community Players at Alden Theater and in 2014 produced Pearl Cleage's "Blues for an Alabama Sky" for Port City Playhouse.
"Sydney-Chanele is the one who made me do this website," said DC Metro Theater Arts founder Joel Markowitz. "She always felt that the little guy wasn't getting enough attention. She was passionate about helping kids and working with students at West Potomac and McLean. She was the soul of the site and kept us on the right path always."
Dawkins served as programmer for Cinema Art Bethesda and co-chair of the Film Program for Artomatic, the Reel Independent Film Festival and Female Shorts & Video Showcase. She was active in leadership and programming positions with DC Metro area Film Festivals including Filmfest DC, DC Shorts, the Washington Jewish Film Festival, Arabian Sights Film festival, and AFI Docs.
"Sydney-Chanele was very brave and never once felt sorry for herself," Markowitz said. "I never heard her talk about cancer. Up to the end, she believed she was going to win this battle."
Pat Miller, also a former chair of the Alexandria Commission for the Arts, remembered Dawkins' passion for the arts.
"She was a very determined individual," Miller said. "When she undertook something, she got it done, whether it was film production or the theater, she was just amazing."
Dawkins also served as a judge for the Helen Hayes Awards, the DC theater community equivalent of the Tony Awards.
"This is a hell of a loss for the theater community," Markowitz added. "She had done so much in her crusade for women playwrights. The day she died she told me 'We are doing God's work, don't ever forget it.'"
Dawkins is survived by her husband of 16 years, Aaron L. Dawkins Jr., and her parents, Mariamu Mjumbe and Ronald Jeffries. She leaves behind her siblings, Lukata Mjumbe (Kayren), Christy Fenner (Derrick), Nicole Onley (Ray) and Zai Mjumbe. Dawkins is also survived by her mother-in-law, Mary R. Dawkins; nephews, Chris, Rico and Truth; nieces, Aya and Lewa and numerous relatives and friends.
Family will receive guests on Friday, July 17, at Ebenezer A.M.E. Church, 7707 Allentown Road., Fort Washington, Md. There will be no traditional viewing, but a family and friends hour at 10 a.m. The homegoing service will commence at 11 a.m. Interment will be private.
"She was a very private person," Griffin said. "I only wish we had known [she was sick] so that we could have told her how much we loved, respected and admired her and her work, and her commitment to the arts, the artists and the arts community here in Alexandria and beyond."