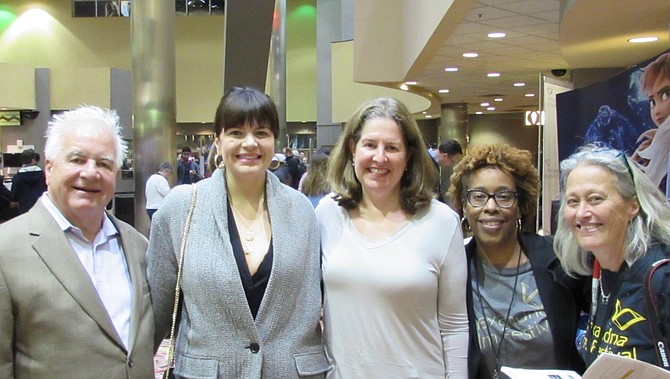 Casey Wilson, a graduate of T.C. Williams High School and former cast member of Saturday Night Live, returned to her hometown to screen her new film "Daddio" as part of the 13th annual Alexandria Film Festival.
Held Nov. 7-10 with screenings at the Charles E. Beatley Library and AMC Hoffman Center Theaters, the festival showcased 53 films from local, national and international filmmakers. Films ranged from feature length to shorts and documentaries with Q&A sessions with directors, producers and cast members following the screenings.
"The Alexandria Film Festival wrapped its 13th year with record attendance of more than 1,000 film lovers, warm homecomings for Alexandrian filmmakers Casey Wilson and Marc Carlini, two Veteran's Showcases, a Mayoral proclamation and a new partnership with NOVA's film degree program," said AFF chair Margaret Wohler.
"Wake," a movie about a widowed mortician and life-size doll named Pedro, won top honors at the Festival. Directed by Cyrus Mirakhor, the film was awarded Best of Fest by attendees.
Other award winners included: "Fruits of Peace" directed by Kevyn Settle – AFF Joe Cantwell Award for Excellence in Documentary Filmmaking; "She's in Portland" directed by Marc Carlini – AFF Audience Award; "Demand Curve" co-directed by Meredith Bragg and Austin Bragg – Best of the Region Award; and "On the Outside" directed by Paul Gray – Best Foreign Film.
The nonprofit festival is supported by a grant from the Alexandria Commission for the Arts and corporate sponsors including Brandywine Living at Alexandria, Burke and Herbert Bank, The Foundry at Carlyle, Hilton Hotels, Connection Newspapers, Alexandria Hyundai, Ted's Montana Grill, San Antonio Grill, Glory Days Grill, Wilson Grand Communications and Booka Looka, West End Business Association, Alexandria Living Magazine, Visit Alexandria, Alexandria Times and Alphagraphics.
www.alexfilmfest.com