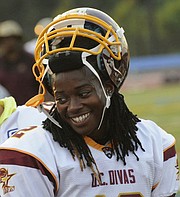 Ashley Whisonant has a track record of athletic achievement.
After graduating from St. John's College High School in 2004, the Bowie, Md., native played basketball for four years at the University of Arizona. She finished her career with 1,451 points, at the time placing her fifth on the Wildcats' all­time scoring list. As a senior, she was named team MVP, Defensive MVP, and earned 2nd-team all-Pac-10 honors.
Five years ago, she decided to give tackle football a shot. Whisonant, 28, is now in her fifth season as a wide receiver for the D.C. Divas. Listed at 5 feet 5 and 153 pounds, Whisonant has been selected as a first-team All-American four straight years by the Women's Football Alliance and is considered to be the top pass catcher in women's football.
Whisonant, a full-time firefighter in Alexandria and part-time substitute teacher for Fairfax County Public Schools, recently tested her ability as a competitive bodybuilder at the 2015 World Police and Fire Games.
"This was the first time I've done body building," she said. "I typically try to stay in fairly good shape. ... I don't want to say [I was] nervous. I was curious. ... [I was] anxious and curious to know [where] I stood and to know how well I would do."
A member of the Alexandria Fire Department, Whisonant placed first in the women's 18+ Over 5 feet 4 division.
Whisonant has proven she can excel in multiple sports. This weekend, football will be the challenge at hand as the D.C. Divas look to earn a trip to the national championship game.
The D.C. Divas will take on the Chicago Force in the WFA National Conference championship game at 6 p.m. on Saturday, July 25 at Lee High School in Springfield. The winner earns a trip to Los Angeles for the for the national championship game on Aug. 8.
Whisonant is the Divas' top threat in the passing game. She played flag football before giving tackle football a chance.
"It was a pretty big transition," Whisonant said, "getting used to carrying a little bit of extra weight with the shoulder pads, seeing with the helmet."
It didn't take long for her to catch on. This season, Whisonant has 29 receptions for 659 yards and 11 touchdowns.
For those who have never watched women's football, Whisonant said it's "just as exciting" as watching men play.
"If you like sports, football to be exact, it's almost like going to a Redskins game or a Ravens game, except you see females," Whisonant said. "... It's just as exciting. You have a lot of fun. ... People assume woman can't play sports that men play. It's an eye-opening experience."
Tickets are on sale at www.dcdivas.com/tickets.