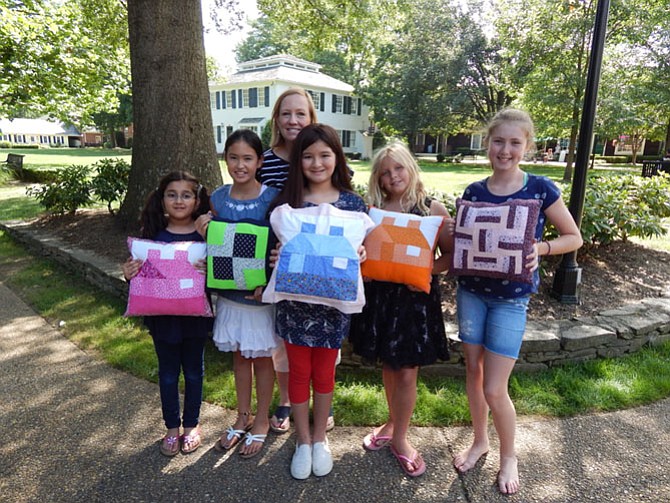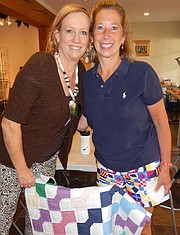 Scintillating seams and life lessons abound during a two-week sewing camp helmed by Cathy Moran — local business wiz, born-teacher, and mother to four vivacious redheads — as part of The Great Falls Foundation for the Art community summer programs.
"I was a fidgety young girl with energy to burn," admits Cathy with a sparkle of humor that is so candidly Cathy. She credits her mother for steering her straight, guiding her through the needle's eye of adulthood through everyday lessons in sewing, knitting, and crocheting before Pinterest and Etsy even existed. The lessons Cathy learned extended far beyond mastery of the craft. Cathy was exhilarated by "the feeling that comes over you after you have created something," whether that work be a child, a homemade Halloween costume, or a warm quilt.

That realization is the fulcrum of her life — the inspiration for her generosity of spirit and effortless kindness. Now Cathy — or rather, Ms. Cathy — imparts her wealth of knowledge upon young, eager minds, and tiny, willing hands at the Great Falls Artists' Atelier.

IN ITS NEW LOCATION near the Old Brogue, the Artists' Atelier is where art, crafting, and local commerce intersect. For the past two weeks, the back studio has been home to Miss Cathy's Sewing Camp where summer-breakers step away from televisions and shopping malls to learn and share in a timeless art. For three-and-a-half hours every day over two weeks, they do nothing but sew, surrounded by sewing machines basking in warm bulb light and inadvertently decorating the concrete floor with scraps of cloth and pieces of colored thread. Away from the July heat, Miss Cathy's classes are a chance to step back, take a deep breath, and create something beautiful.
Week one's project was an owl fashioned from "yo-yo"s, gathered fabric disks. Cathy's neighbor and rising fifth grader, Josie Amspaugh, was the class assistant for week one. The kids were so focused on the end product, they didn't realize how quickly time had passed or how good they were becoming with a needle and thread. Cathy's eldest daughter, Molly, stopped by the first day to lend her expertise and natural leadership. Now a nurse at Georgetown Hospital, Molly is living proof of the mother-daughter sewing connection — and the girls flock to her! Cathy made a conscience decision not to have music playing. Week one the kids chatted as they stiched. Week two you could hear the hum of the sewing machines, which provided the perfect white noise to allow the girls to chat and work.
Quilting was next. Cathy learned to quilt on a sewing machine twenty-five years ago — her first creation went off to Fordham with her first son, Timmy — and called on friends for advice, patterns, machines for her little ones. Cathy spent the weekend prior rounding up six sewing machines from around Great Falls, the result of which was a veritable exhibit — the evolution of the sewing machine from a 1967 tank-like Singer to a 2000 computerized Viking.

Guest speaker JoAnne Lewis spiced up week two with a challenge — hand quilting. JoAnne sews the squares of her quilts by hand before sending them to Pennsylvania to be backed and finished by an Amish community. JoAnne is dedicated in her quilting, hand-stitching colorful patterns and incorporating t-shirts gathered during family vacations into gorgeous works of art for friends and family.

Sewing takes on a personal quality while quilting, but that doesn't preclude teaming up to tackle challenging patterns. The quilting class reunited Cathy with Wendy Hunter, friend and fellow seamstress. "Wendy did all the sewing for my gift shop, Cathy's Corner, in Great Falls," says Cathy. "We do things differently, which is great for the girls to see and learn."

And learn they do, as the benefits of sewing and quilting are numerous.

SEWING can be simultaneously social and meditative, encouraging multi-tasking (talking while stitching), independence, and communication. Repetitive motion builds fine motor skills and provides an easy, cost-effective answer to proclamations of "I'm bored." While hand-quilting students practice patience, focus, and self-acceptance — even the most seasoned sewers will make mistakes — "God's Eye"s as Ms. Cathy calls them.

In a sense, sewing imitates life: wrinkles occur and mistakes happen but do we unravel every seam to root out the issue? No — we sew with the flow and make it look like we planned it all along — and no one is better at spinning a "whoops" into a "wow" than Cathy Moran.
Still asking "so what?" Well, why the heck "knot"?