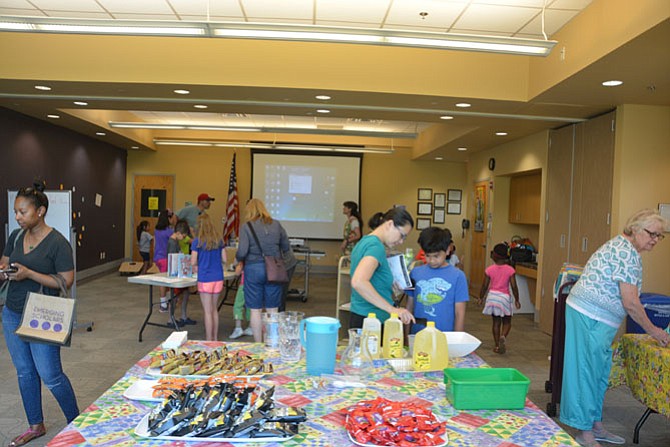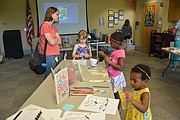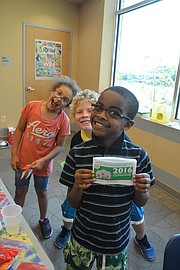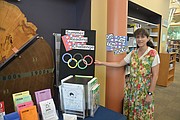 Summer has begun, and with it, the Fairfax County Public Library's 2016 Summer Reading Challenge. Burke Centre Library hosted their Summer Reading Program kick-off event on Saturday, June 25 to celebrate.

The library's meeting room hosted origami, craft making, coloring, decorating bookmarks, refreshments, an opportunity to play mini corn hole and a little play area for toddlers.
Burke Centre Library Youth Services Coordinator Nancy Klein watched as children answered the question on the whiteboard: Where is your favorite place to read?
"It's our biggest program of the year," said Klein, who is one of several librarians who visit local schools to promote the summer reading program, bringing with them books of a variety of grade levels and genres. "It's so nice to see them appreciating what the library has to offer and they get so excited to win the coupon booklets."
COUNTYWIDE, the program runs from June 23 to Sept. 3. Those who complete their book log before then, based on the requirements for their grade level, receive a coupon booklet. Reading logs can be obtained online at fairfaxcounty.gov/library or at the nearest public library. Books can be chosen based on the child's reading level, and library recommendations can also be found at fairfaxcounty.gov/library.
Children from pre-kindergarten to third grade must read 15 books (have these books read to them), fourth through sixth graders must read 10 books and seventh through 12th-graders must read six books.
Most of the children in attendance had just picked up their library books and their book logs at Burke Centre Library's kick-off event. One such young boy was Ethan Luu, whose recent mythology unit in English class sparked an interest in Rick Riordan's series, such as Percy Jackson and the Olympians. In his quest to finish his reading log, he plans on reading another one of Riordan's series, the Kane Chronicles.
"Reading is the one thing I'll let him stay up late to do," says his mom Teri Luu.
Another mom loves to see her children's reading levels improve even as they learn. Edda Coleman is excited for this summer especially because her three year-old daughter, Bailey, can now be more active in choosing her books even as her older daughter, Peyton, has moved on to chapter books.
"I love to watch their imaginations soar when they read," Coleman said as she tucked their books into her bag.
LIBRARIAN Sheila Shoup loves the program because of the enthusiasm for reading at all ages.
"It mixes fun and information for a whole family experience," she says, because in fact, Burke Centre Library also offers a summer reading challenge for adults. After reading six books and completing the adult reading log, one can receive a coupon for the library's ongoing and future book sales.
But who's to say parents don't love the kid's books? Mother Valerie Sanders also happens to enjoy one of her daughter's favorite authors at the moment, Mo Willems.
"He's goofy but insightful," she says. Both her daughter Chloe, and son Enoch have already finished the summer reading challenge and received their coupon booklet, as well as put their names up on the designated window in the back for the challenge finishers.

"The whole program is great because the kids get to binge on books instead of Netflix," she laughs.