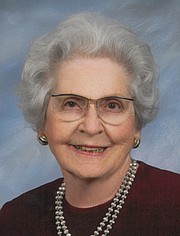 Charlotte Kline Rixse, 97, died on Sunday evening, July 19, 2015 at Goodwin House in Alexandria. Born May 14, 1918 in Rockingham County, Va., the daughter of Emmer Hoover and Lottie Miller Kline, she brought light and joy into the lives of all who knew her. She was devoted to, and loved by, her family and friends throughout her long life.

Charlotte's family relocated to Cherrydale in Arlington County when she was a small child. After graduating from Washington-Lee High School in 1934, she attended George Washington University for two years and then graduated from Strayer Business College in 1938 after which she joined the FBI, where she worked until 1941. She married John H. Rixse, Jr., also from Cherrydale, in 1939.
She and John moved to Alexandria in 1941 where they raised two sons: John H. Rixse III born in 1941, and Robert S. Rixse born in 1947. Robert, an Alexandria pediatrician, was killed in 1984. Charlotte is survived by her son John and his wife Terry, of Sarasota, Fla.; her granddaughter Kathryn Rixse Carlson of Cumming, Ga., her husband Scott and their four children, Jake, Ellie, Sam and Daniel; her granddaughter Amanda Rixse Nichols of Alexandria, her husband Robert and their three children, Oliver, Charlotte and Benjamin; her granddaughter Margaret Rixse Leche, her husband Harry and their three children, Harry, Charlie and Lillian; and four nephews and nieces (Steve, Donna, Inez and Jim), and their families.
Charlotte was the family genealogist and a member of the Mount Vernon Chapter of the National Society Daughters of the American Revolution. She was an avid bridge player. She and her husband played together in many different bridge groups and, after he died, she continued. She was most active at Goodwin House where she was involved in games five days a week. She was also a craftswoman, where she made beaded flowers and stained glass. Perhaps her greatest love and accomplishments, however, was in all things in the garden. At her home she always had the best garden, raising flowers that were consistently winning competitions.
Charlotte was affiliated with the Beverley Hills Garden Club for over 50 years, and was for many years in charge of the flowers at Trinity Methodist Church. She was an official flower show judge and an accredited landscape design critic. Over the years she served as president or chair of various local, metropolitan area and Virginia Flower Show Associations and Federations, and was a Master Judge of the National Garden Clubs, Inc. An active member of Trinity Methodist Church in Alexandria, she served on, or chaired, the Altar Flower Committee from 1941 until 1997. At the April 1968 national convention in Biloxi, Miss., she was awarded the May Duff Walters Garden Award by the National Council of State Garden Clubs, Inc for chairing and landscaping the gardens and grounds of the church.
Charlotte moved to Goodwin House in 1998 and immediately became involved in the bridge and flower activities there. She is remembered by all for her sweet smile and her kindness and caring for all who knew her.
The family gives special thanks to all at Goodwin House who so lovingly cared for her throughout her stay, and especially in her last days.
A memorial service will be held in the chapel at Goodwin House in Alexandria on Sunday, Aug. 2 at 3 p.m. In lieu of flowers, consider a gift to the Flower Fund at Trinity United Methodist Church, 2911 Cameron Mills Road, Alexandria, VA 22302.