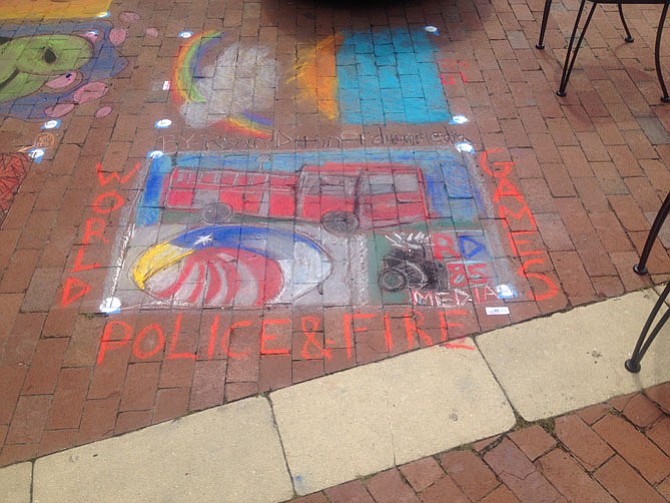 This past weekend Reston Lake Anne Plaza hosted its second annual Lake Anne Chalk on the Water Festival. There were three categories for persons to participate in, each with cash and other prizes awarded. More than 100 chalk artists participated in this event. Participants had two days to complete their work. Despite heat and humidity, people of many ages took the opportunity to draw chalk art. "The hardest part was keeping my sweat from dripping on it while I was drawing," said artist Ioannis Hadjikyriakou.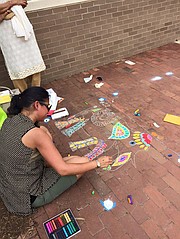 Lake Anne collaborated with Initiative for Public Art-Reston (IPAR) to bring this public art themed event to the plaza. IPAR imagines public art throughout Reston that inspires the community and engages the mind and senses. Funds raised from the festival were donated to IPAR. Participants could purchase a "plot" of brick space on the plaza and create whatever flows from their imagination. Approximately 100 spaces/plots were available for this event. Reston Town Center will host a ChalkFest on Friday and Saturday, Sept. 11-12.
Sunday, June 14 was also the first date of the return of the Summer Film Festival, a free outdoor cinema festival which begins at sundown near the Lake Anne Plaza. The schedule for July 12 is Spielberg's "E.T.", Aug. 9 the musical "West Side Story," and Aug. 30 the documentary film Jazz on a Summer's Day. The shows begin at dusk, close to 8:30 p.m.
The Reston Community Center at Lake Anne is hosting an art display by the Reston Photographic Society. The exhibit, PhotoArt, is at the Jo Ann Rose Gallery and continues until June 29. The Reston Photographic Society (RPS) is open to all League of Reston Artists (LRA) interested in photography, and meets on the first Mondays of each month, September through May.
Also located at Lake is the Reston Art Gallery & Studios, a privately owned small cooperative gallery and studio. Open on the weekends, appointments to see the gallery can be made for weekdays. The Reston Art Gallery & Studios houses 11 artists who have their own workspace in the gallery, and it's possible to watch them working and creating through the windows. Reston Art Gallery & Studios exhibits works of art year-round, in both the main gallery and in side workrooms.
Argentinean-born Claudia Samper holds a degree in architecture from the University of Buenos Aires. After moving to the United States, Claudia studied graphic design, photography, ceramics and painting. She describes herself as an "empathetic" person and looks to relationships and "the psychology of life itself" for artistic inspiration.
Claudia has exhibited around the country, and her paintings are part of collections in Argentina and Spain. Currently, Claudia has a solo show at the Reston Art Gallery titled "Interplay," which features pieces that explore the world of opposites and dreams, a rearrangement of different visual or intuitive elements. This show lasts from June 4 to July 2.
Reston South Lakes High School art students are working on a follow-up to last year's popular multicolored pyramid at the Lake Thoreau spillway. This year, South Lakes students are designing an iridescent double-helix sculpture. The group's project was approved by the Reston Association Design Review Board. The project should be installed in June. Members of the STEAM Team include Margaret Lashley, Josh Rodriguez, Kathleen Roherty, Tehmeena Salahin, Lucy Nguyen, Carson Bush, Victoria Slaski, Leah Moyer, Samantha Malzahn, Cale Sherman, Johnathan Doctor, Ryan Monaco and Ben Paul.