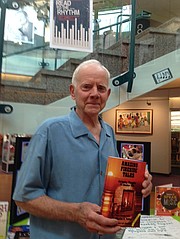 Arlington — Years ago Charles Toftoy conceived of an idea for a thriller mystery novel in which four unlikely friends shared their talents to solve crimes. The four friends became the Alpha Team and the two mystery thrillers, "It's in the Eyes" and "Eyes of Cold Case Killers," met with national acclaim. Toftoy's latest work, "Amazing Fireside Talks: Intriguing Thoughts to Awaken You," is both familiar and surprising. The Alpha Team returns, yet this time they've taken a sabbatical from their crime-solving lives to share stories and lessons of inspiration.
It was his wife's idea, said Toftoy, a resident of Arlington for over 40 years. "Why not write something inspiring that gives people hope?" she said one day. "I think she was a little tired of me meeting with people to talk about homicides."
Most authors would shy away from a genre switch, from thriller to self-help, but Toftoy was undeterred: "I like to challenge myself."

To say that Toftoy doesn't shy away from challenges would be an understatement. A West Point graduate, two tours in Vietnam with two purple hearts, a business executive, former professor emeritus at George Washington University, lecturer, triathlete, and author of three books and numerous articles. Toftoy's life is one of goals set, then achieved.
His latest work, at 382 pages, covers 25 life topics including trust, depression, anxiety, patience, integrity and happiness. "I did three and a half years of research and study before I even put pen to paper," he said of his approach.
The book draws from research in books, blogs, websites and meetings and conversations with a diversity of people.

"I didn't want any fluff in the book," Toftoy said in response to looking at several other inspirational books on the market. He departs from the typical inspirational book format where the author conveys ideas using his or her voice. Instead he uses the voices of his fictitious characters in The Alpha Team. For each topic, each of the four Alpha Team friends presents his or her own wisdom and ideas. Why this format? "I didn't want it to be about me. I want it to be about you, the reader." For Toftoy, this style felt natural. After two books with the Alpha Team, Toftoy feels a connection with his characters, "The characters live inside me." He said.

"I've never had writer's block," said Toftoy about his writing. "I'll be freewheeling around doing something and all of a sudden I get an idea and I start writing and it flows." Over the years he's learned that good ideas are valuable and fleeting. "I keep a note pad by my bed. If I get an idea, I write one or two words down." That's all he needs to jog his memory and begin writing once again.

"I wanted to inspire people and give them hope," Toftoy said about his motivation for writing the book. As a veteran, he always kept fellow veterans in mind as he wrote. For years, Toftoy has actively worked with the Wounded Warrior Mentor Program, working with veterans suffering from PTSD, traumatic brain injury and more. A portion of the book's proceeds will go to the mentor program.
And in the process of writing about self-help and inspiration he learned a great deal. "I'm much more patient now. I take in more," he said. "I practice more deep breathing. I remember to always look ahead and move forward."
Find out more about the book and about Toftoy at www.charlestoftoy.com.