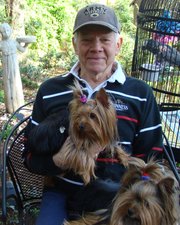 Arlington — What's next for professor sleuth Lars Neilsen and Alpha Team after solving the murders of four local university co-eds in "It's In The Eyes?"
In "Eyes of Cold Case Killers," Neilsen and the Alpha Team pursue a cold case serial killer named Taurus over four jurisdictions (Fairfax, Arlington, Falls Church, Alexandria) in Northern Virginia.
Arlington resident Dr. Charles N. Toftoy just published his second book, "Eyes of Cold Case Killers", a sequel to his first thriller/mystery "It's In The Eyes" from December 2011.
"With this killer sort of haunting the D.C. Metro area, it will remind people of the whole post 9/11, anthrax and snipers scares when the whole community was walking on eggshells. So it's sort of fascinating from that standpoint," he said.
Toftoy said the public outcry for solving cold cases and his admiration for the cold case detectives motivated him to write the second book.
During his research Toftoy learned about the forensic strategies and techniques used to solve cold cases.
"After 5 years or so, a person sort of changes their story because now they don't feel as threatened by the murder. So now witnesses are more open to talk with police," he added.
He also learned how they deal with the victims' families which can be very emotional at times. "I really admire the cold case detectives. They have to think outside the box. And they stay with the case. They leave no pebble unturned," he said.
His respect for cold case detectives and their work made Toftoy determined to accurately portray them in his novel.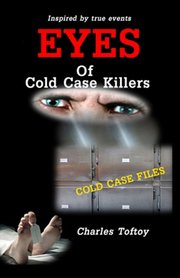 "All that's left of the victim is a gray file in a file cabinet. They are the last hope. They've got to make sure that they dedicate themselves to finding out what happen to the victim. These homicide detectives are very special people," he said.
In addition, the readers "are going to learn an awful lot. They are going to learn about what the victims' families go through and all these cold case strategies. It's kind of a learning experience for them," he said.
Toftoy believes that including vivid description and actual landmarks such as the Hard Times Café, the Silver Diner and the Vietnam Memorial in the book help to bring the story to life for readers.
Though he had a great experience conducting research, Toftoy enjoyed developing the characters. He remembers waking up at 3 a.m. from a dream where Brenda (one of his characters) told him not to forget to put a certain scene into the story. He wrote it down and went back to sleep.
"Particularly, the four main characters, they live inside of me," he said.
CINDY BAUER, one of the editors' of "Eyes of Cold Case Killers," also saw the deep connection between Toftoy and his characters while working on the book with him.
"He is an excellent writer with a wonderful voice and his own personal humor comes out in his characters," she said.
After reading both books, Bauer stated that she "… fell in love with the characters. The characters' personalities are very realistic, funny, and as a group, make the story come alive. He did extensive research which really helped as well."
According to another of the book's editors, Irene Stefanski, Toftoy's detailed descriptions of his characters' lives — right down to the stores where they shop — bring these characters to life in his novel.
Currently, he is working on a screenplay of the book for a possible TV mini-series or film.
Although Toftoy spends most of his time writing, he does take time to read outside his genre such as "After the Reich" and "The Hunger Games."
A portion of the profits from "Eyes of Cold Case Killers" will be donated to Heroes, Inc. an organization dedicated to helping families of law enforcement officers and fire fighters who have died in the line of duty in the D.C. Metro area.
"Eyes of Cold Case Killers" can be purchased at Amazon and Barnes and Noble.
Toftoy currently works as a business strategies advisor to several local companies in Arlington. He has a MBA in strategic planning from Tulane University.