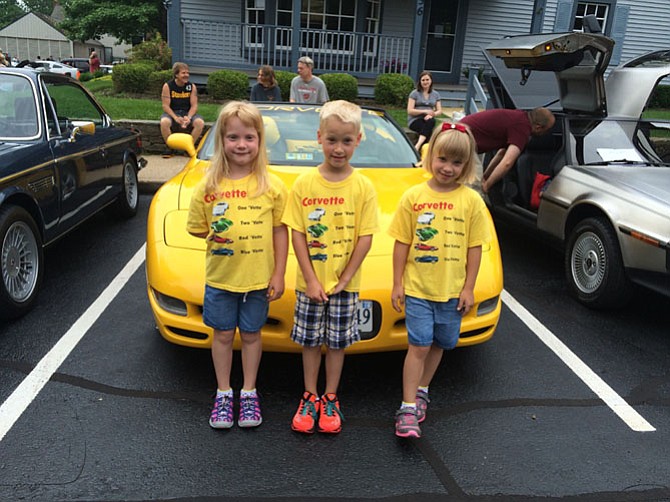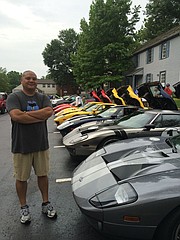 Early Saturday mornings for three hours, the Great Falls Village Town Centre transforms into spectacle of antique cars, new cars, custom cars, exotic cars and as of last Saturday, a never-before-seen in the Washington area car, as part of the weekly event Katie's Cars & Coffee.
The outdoor cars and coffee show, named for its locale Katie's Coffee House owned by Mike Kearney, began five years ago on April 3, 2010, as the brainchild of Kearney's frequent customer and friend Bob Morris.
Morris had visited a cars and coffee show in California and returned to Kearney with the suggestion of starting a similar show in Great Falls at Katie's. When Kearney agreed and Morris suggested holding the show from seven to nine on a Saturday morning, Kearney remembers being apprehensive of the time.
"I told Bob it was crazy to think people would be here at seven to nine in the morning, even coming from Bob Morris, who is in Katie's almost every morning at opening time," Kearney said.
KATIE'S AVERAGES 500 plus cars every week, and most arrive even before 7 a.m. The first cars roll into the parking lot at 5 a.m. to secure the best spots.
Kearney finds it ironic now that the early morning hours is the time that works.
"Now that we are averaging 500 plus cars every Saturday for our show, the other Town Centre merchants would only really put up with us so much as long as we promise them we will be over by nine," he said. "If you show up at 9:30, it's all gone and you may never know it even existed."
Consistent appearances are Ferraris, Lamborghinis, Aston Martins, Porsches, Corvettes, Mustangs, the classics and many, many more.
A website titled katiescarsandcoffee.com that is not affiliated with Katie's Coffee House describes the show as a "scene out of your dreams after an intense day of car magazine reading" with cars of "every type imaginable."
Mazda of North America showcased the pre-production 2016 MX-5 Miata at Saturday's show. Collier Hyams, president of the Mazda Sportscar Club of Washington, D.C. helped arrange the showcase. Hyams initially learned of the show after playing Celtic music at The Old Brogue Irish Pub, the counterpart of Katie's Coffee House.
"I heard about the show and thought, 'Oh that's nice, they have a little parking lot to put cars in,' and then when I came here, I actually could not believe it," he said.
While this particular Mazda model has not been shown before in the Washington area, Hyams was still surprised at the large audiences it drew because of the Mazda's neighbors.
"It's parked next to two Ferraris, so I think it's amazing that it's generated this much response," he said.
Another fan favorite on Saturday was a long line of seven Ford GTs parked alongside one another with open hoods.
Chris Li, who grew up in Fairfax County and has been coming to the show for years, purchased a GT a little over a year ago and helped organize what he called a "smattering of different types, tunes, modifications and personalities" of Ford GTs at Saturday's Cars and Coffee.
Li said the decision to bring the cars to a local show stemmed from conversations between some of the GTs' owners who were at the Carlisle Ford Nationals last May in Pennsylvania.
"I said you need to go to the biggest one in the area and when they asked where, I told them, Great Falls," Li said.
Cars and Coffee is the largest regular show of its kind on the East Coast, but Kearney believes what really makes the show unique is its local feel.
"With the layout of the shopping center and town, each car gets individual space and attention which is different from other shows," he said. "People really enjoy that local feel."
Attendees of Katie's Cars and Coffee have the chance to enter a raffle for a classic Mustang convertible, sponsored by the Rotary Club of Bailey's Crossroads. Proceeds from the raffle benefit the charitable projects of the Rotary Club of Bailey's Crossroads.
Pat Borowski, the club president as of July 1, said the club loves sharing a fondness of cars with the show's visitors for a good cause.
"We get great traffic and terrific purchases on our raffle here, and that is a great thing," she said. "I have been consistently impressed by how many cars and how many people come every week."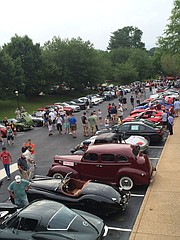 MANY CAR OWNERS have made coming to Katie's Cars and Coffee a regular part of their weekly schedule.
John Swift, a resident of Vienna, comes every week with either his 1979 CBX Honda 6 or 2014 Corvette. He said his favorite part about the show is "seeing all the different cars and talking to the people with cars, as it's an easy way to make friends."
He added, "I have motor oil in my blood. It's been there since I was 14 and I changed my first engine."
But the show does not just attract car enthusiasts – families are regular attendees as well. Mothers and fathers strolling the long lines of cars with their children and pets are a common occurrence every Saturday.
Katie's sells close to 1,000 cups of coffee, as well as almost 100 breakfast burritos and 150 breakfast paninis made with fresh local eggs every Saturday morning. Fresh muffins from artisan bakery Baguette Republic in Sterling and warm donuts delivered every Saturday morning from Duck Donuts in Herndon are also available for purchase.
Kearney said he loves how much energy the show brings to Great Falls on what otherwise would be a quiet and sleepy Saturday morning.
"It is the only day of the week that I get up at 4:30 a.m.," he said. "But to get here with all the cars, and see all these smiley people who get a kick in their step, is just something special."